Eat beat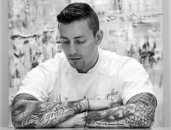 Beijing
3-star chef, Chicago style
Chicago-based chef Curtis Duffy, whose culinary direction has won his Grace restaurant a three-star Michelin rating for three consecutive years, will be in Beijing for four nights of special dinners to showcase his artful way with food. Duffy calls his style "personality cuisine" - cooking the way he wants to eat because he thinks that can best represent a chef. With accolades from Forbes and the James Beard foundation as well as Michelin, he sits on the advisory board of the Auguste Escoffier School of Culinary Arts, with a $25,000 scholarship in his name. The dinners in Beijing are limited to 40 seats each night. The 1,880 yuan ($272) price includes wine.
6-10 pm, April 12-15, at Flames Grill, 5/F of Hilton Beijing Wangfujing. 010-5812-8888.
Embassy chefs to compete
Chefs from a number of embassies will compete in the first "gastrodiplomacy chef's competition" in Beijing on May 22. The event is hosted by the Gourmand World Cookbook Awards, the East Eat Group of China and the Global Center of Gastrodiplomacy. Culinary diplomacy or "gastrodiplomacy" is defined as the use of food and cuisine as instruments to create cross-cultural understanding and platforms for economic development. The chefs will use ingredients from their countries to show their best national products, which the public will be invited to taste during the event.
9 am-4 pm, May 22, at the National Exhibition Center near Beijing's Olympic Park; awards ceremony May 24.