New day for dining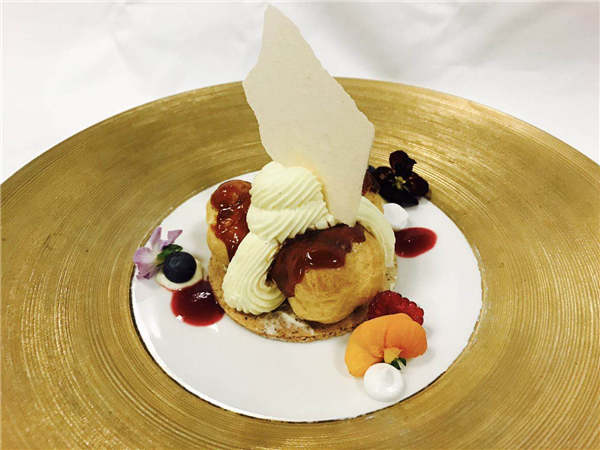 Crusty choux bun filled with rich French pastry cream makes a sweet finish for a meal at Jaan. Photos Provided To China Daily
Change is a given in Beijing's restaurant scene, but this spring it's come in a big way to one of the capital's most prestigious dining rooms, Mike Peters reports.
Sun Yat-sen and his wife dined here. So did the Irish dramatist George Bernard Shaw. Chairman Mao hosted visiting heads of state and welcomed Chinese writers, and Premier Zhou Enlai ate and drank with US envoy Henry Kissinger.
With a broad facade on Chang'an Avenue, the Beijing Hotel has a long, proud history, built in 1917 in the architectural style of 17th-century France. In the run-up to the Beijing Olympics, a 10-year management contract was awarded to Raffles in 2006, and under that prestigious chain's wing the French restaurant Jaan (derived from the ancient Sanskrit word for "bowl") was widely lauded for its ambiance and cuisine.
At the beginning of this year, management was assumed by Nuo, the luxury hotel brand of China's Beijing Tourism Group. BTG has won acclaim for its flagship Nuo hotel in Beijing's Lidu area, inspired by the artistic and cultural visionaries of the Ming Dynasty (1368-1644).
"The complex is actually three hotels," says Gerrit Thesing, general manager of what is now Beijjing Hotel Nuo, where there is Western-style service and a little more tweaking underway than in the more traditional Chinese hotel and private dining rooms. But even in the part that is now Nuo, the changes are gentle.
The tall French windows, the elegant chandeliers, and the piano sitting on the original 1924 dance floor are untouched. The piano is said to be the world's oldest-known Boesendorfer - an Austrian piano maker dating to 1828 and a brand made famous by a particular fan, Franz Lizst.