Needle system for wine-opening now more affordable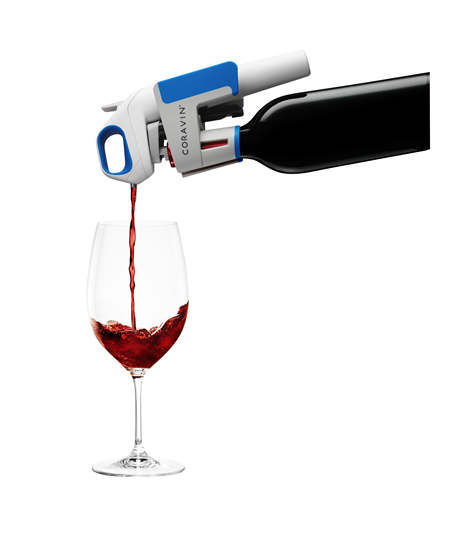 The lightweight white-and-blue Model One. Provided To China Daily
How many bottles of wine would you like to have open at once?
If you've struggled with this question at home - debating whether to open that bottle of red for fear you won't drink it before it goes off - a professional solution may now be affordable for regular folks.
It's the Coravin, billed as "the device that changed the way the world drinks wine".
The gadget allows you to push a thin, medical-grade needle through foil and cork to access the wine without actually opening it.
"The bottle is then pressurized with a harmless gas called argon (used regularly by winemakers), which pushes the wine through the needle, flowing directly into your glass without letting any oxygen in," the company says. "Once the needle is removed, the cork naturally reseals itself."
The technology is not brand-new, but the company recently introduced a lightweight white-and-blue Model One, with ergonomic, soft-touch handles, making it easy and comfortable to use. A target market: Chinese millenials, who are considered more adventurous drinkers and may like to have multiple bottles open at once.
The Coravin Model One sells for HK$1,800 ($231), considerably less than earlier models.
At that price, you may still think it's more expedient (and more fun) to just drink a little faster.
But assume for a moment that your life is not an endless college party. You are a sophisticated wine drinker with friends who imagine themselves to have even more savoir-faire. You want to open a 1990 Chateau Lafite-Rothschild and a 1989 Chateau Margaux and the 1955 Grange for a little comparative sipping without being the loutish sorts who would polish off all three bottles in one sitting.
Obviously, you are not drinking at my house, but I understand there are places where this could happen.
Even if your wine collection isn't quite so coveted, there's always some risk opening more wine than your going to consume, especially with reds.
Every wine lover has had to throw away good wine they've forgotten to drink. Once you've poured the soured remains of a few pricy ones down the drain, the Coravin starts to look like a good investment.
The Model One is available at Watsons Wine in Hong Kong and online elsewhere.