Visiting chef talks of Michelin stars and modern cuisine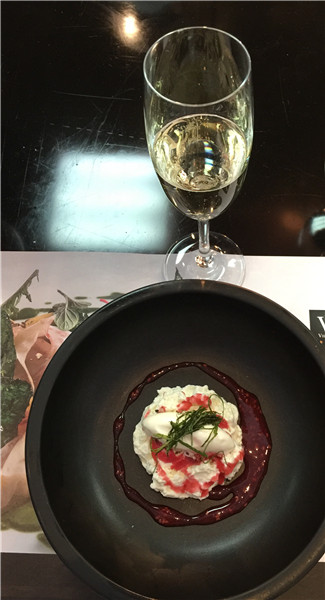 Soft white chocolate with ricotta ice cream.  [Photo provided to China Daily]
As we nibble deliciously tender loin of lamb-stuffed and breaded, then prettily tucked in leaves of savory cabbage-we ask visiting Italian chef Damiano Nigro about his restaurant's Michelin star.
Is it such a big deal in Europe nowadays?
"Of course," he says, adding that business has doubled at the Villa d'Amelia in Italy's beautiful Piedmont region since the star was awarded.
China's seeming obsession with Michelin-rated chefs, heightened by the new guide for Shanghai, is relatively new, but on the continent where the guide began more than a century ago, star awareness remains strong.
Nigro's success may be due to the "modern traditionalist" approach he brings this week to Beijing, where he's doing a guest-chef stint for five days at TRB-Bites. "We still love the traditional flavors of our regional cuisine," he says, "but the old ways of cooking are too heavy for today's tastes." The modern approach is healthier, he says: "More vegetables, less fat, flavors that are clean and fresh."
While some visiting chefs pack an insulated suitcase full of their preferred produce, Nigro felt no need to do that. The TRB restaurant group's well-regarded European kitchen has established sources, and he simplified his menu a bit to avoid the need for lengthy plating rehearsals in his host kitchen.
"I pretty much came straight from the airport to the restaurant," he says with a grin.