Eat for luck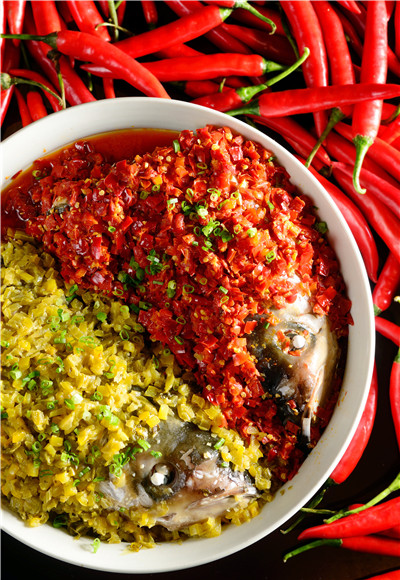 Steamed big fish head in two kinds of chilli sauce at Jing Yaa Tang in Opposite House Beijing. [Photo provided to China Daily]
Spring Festival eve dinners are all about abundance and prosperity. Mike Peters reports.
The Year of the Rooster arrives this year on Jan 28, but when families gather for their annual eve of Chinese New Year feast, the star of the dinner table is more likely to be fish than fowl.
In Chinese, fish (yu) sounds like surplus. It's always good to have a surplus at year's end: If you have managed to save something at the end of the year, Chinese tradition says you can make more in the next year.
Like many dishes that make their way to the Spring Festival celebration, auspicious symbolism is based both on the way a food's name is pronounced and what it looks like. Fish, dumplings, spring rolls and niangao are among the most common dishes for Chinese New Year both in the mother country and around the world.
"When I'm at home, I like to have very simple Cantonese food with my family, such as a Chinese steamed fish, which is one of my favorite dishes," says Kwong Wai Keung, T'ang Court's executive chef for Chinese cuisine. His Hong Kong restaurant in the Langham hotel is one of only four Cantonese restaurants in the world with three Michelin stars.
A fancier yu awaits his restaurant guests: Steamed Sliced Garoupa Head and Brisket with Dried Barbary Wolf-berry Fruit and Tangerine Peel. The garoupa fish symbolizes abundance or surplus and contains plenty of protein but has a low calorie count.