Michelin unveils Washington guide, no three-star eateries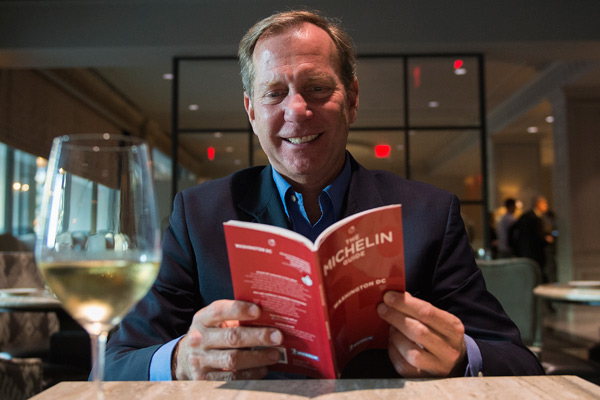 Michael Ellis from Michelin poses with the Michelin guide book for Washington, DC at a restaurant in Washington, DC on Oct 12. The Michelin Guide unveiled its first edition for the US capital Washington last Thursday. [Photo/China Daily]
12 restaurants receive stars in US capital, where mid-Atlantic cuisine is the highlight
The Michelin Guide unveiled its first edition for the US capital Washington last Thursday, awarding coveted stars to a dozen restaurants it said were part of a hot foodie scene.
Alas, no restaurant got the full blessing of three stars, although three received two stars and nine got one.
The best known of the three top-honored chefs is probably Spanish-born Jose Andres. He studied under Ferran Adria - a pioneer of innovative, so-called molecular cuisine - before settling in Washington and becoming a prominent figure in the restaurant world.
Andres has nearly a dozen establishments in Washington that blend Spanish cuisines with flavors from Latin America and Asia.
The one recognized last Thursday is called Mini Bar and has room for just 12 customers. The tasting menu costs $275 a head, excluding wine, taxes and tip.
"Bravo, bravo, bravo!" Adria wrote in Spanish on Twitter, congratulating the restaurant on its new status.
The other two restaurants that received two stars are called Pineapple & Pearls and The Inn at Little Washington, which is actually a 90-minute drive outside the city in rural Virginia.
Aaron Silverman, the chef at Pineapple & Pearls, "has perfectly flavored dishes reflecting a wide range of influences," the Michelin statement said.
The tasting menu there costs $250 a head. It features such treats as a yogurt-filled bonbon on a spoon above a coupe of fennel juice, green apple, celery and absinthe.
Silverman's highly acclaimed first restaurant, Rose's Luxury, received one star, and emphatically posted a giant "Thank you DC!!!!!!!!" on Twitter on behalf of both establishments.
The Inn at Little Washington was honored even though the guide focuses only on places in the city, with Michelin saying it was an iconic place that had trained many young chefs and most of its customers traveled there from Washington, anyway.
It serves "classic and eclectic French cuisine in a stunning setting," Michelin said.
Altogether, 107 restaurants are reviewed in the Michelin Guide for Washington, including 19 in the "Bib Gourmand" category for good food at an affordable price. Thirty-three kinds of cuisine are represented in the book.
"With its own culinary identity centered around 'mid-Atlantic cuisine,' over the last few years the culinary scene in Washington has undergone some profound changes that have made its local cuisine among the most dynamic in the world," Michelin said in a statement.
Washington Post food critic Tom Sietsema added that "something like 90 restaurants have opened just over summer, which is kind of crazy."
While welcoming Michelin's recommendations, he said he was surprised at some of the restaurants that did not make the list, such as Rasika, "the best modern Indian restaurant in the country."
Mini Bar, he furthered, deserves three stars for providing its patrons a "little magic carpet ride."
"It doesn't become a restaurant, it becomes an experience," he said.
Of the 21,000 restaurants featured in Michelin guides around the world, only just over 100 have three stars, Michelin says.
Until now the US cities that had Michelin Guides focusing on their food scene were New York, Chicago and San Francisco.
The Michelin staff that toured Washington's restaurants to compile the guide found cuisine styles from all over the world and local chefs who had worked elsewhere, then returned and used local ingredients to make "truly amazing food," said Michael Ellis, international director of the Michelin guides.
He said Washington is distinguished by its brand of mid-Atlantic cuisine, with blue crabs and rockfish from the Chesapeake Bay and very good local meat and produce.
Agence France-Presse