Pride of the South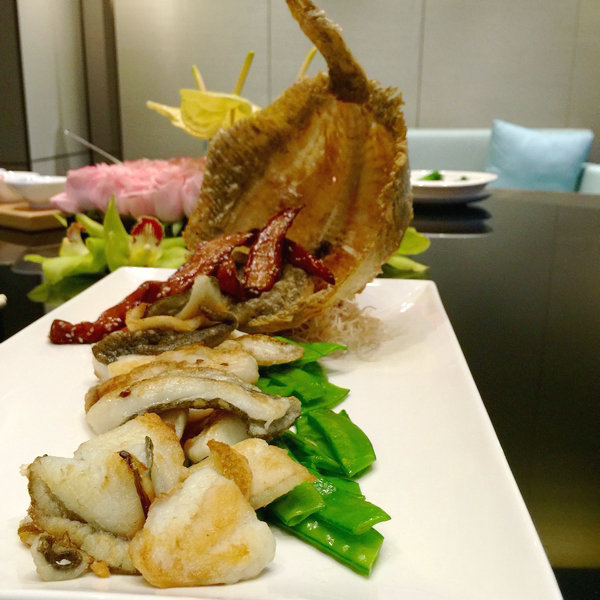 Fried fish takes an elegant form in the chef's hands, and even appetizers beautifully balance taste and presentation. [Photo by Mike Peters/China Daily]
Next in the parade of dishes: fish soup Shunde style.
Both a region in Guangdong province and a style of cuisine, Shunde has been called "the backbone of exquisite Cantonese cooking". Delicately balancing taste and texture, techniques that can be complicated turn simple dishes into culinary triumphs.
Leung takes a classic fishhead soup, then adds ultra-tender carp flesh that has been both fried and poached to give the soup a rich, creamy color. Simply seasoned, the rich sweetness of the fish is a sensory delight in both aroma and taste.
Next came a burst of freshness, a salad-like course of marinated "asparagus lettuce" with sesame oil. The vegetable is celtuce, a cultivar of lettuce grown primarily for its thick stem, not the leaves. It's particularly popular in China (wosun in pinyin, but often called youmaicai in the south), and on a plate it's almost unrecognizable as the plant sold whole in wet markets. The stem is usually harvested when around 3 to 4 centimeters thick: It is crisp, moist and mildly flavored-usually prepared by slicing and then stir-frying with more strongly flavored ingredients.