It's Mid-Autumn so that means mooncakes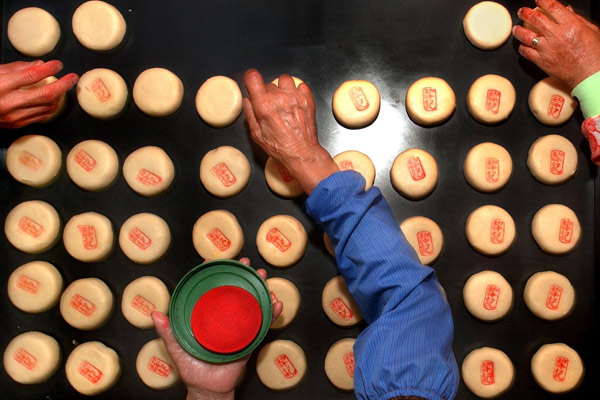 Workers stamp mooncakes with the seal of the traditional Leechi Company bakery in Taipei, Taiwan. [Photo/Agencies]
Mid-Autumn Festival is here again, and as Chinese families take the opportunity to get together, the traditional pastries known as mooncakes will be a big part of the celebrations.
Here in the UK, Britons with an interest in Chinese culture and food, are becoming more and more fascinated by these centuries-old tokens of reunion and happiness.
As well as eating them at family gatherings, Chinese tend to give these good luck edibles as gifts, both to friends and business acquaintances; often packaged in red and gold, colors that signify wealth and well-being.
Increasingly, moon cakes are on sale through various outlets in the UK, from Amazon online to outlets of Star-bucks, the latter offering a Westernized chocolate variety.And go into any Chinese store in London in the run-up to the Mid-Autumn Festival, and you'll find them in boxes, stacked floor to ceiling.
Kim, a teacher in south London, says she plans to introduce her class to them. "It's away of sharing different cultures with them. Kids may never see them in their everyday lives, so this is a good way to explain China," she said.
But, what's in them?
For those that haven't come across them before, that's usually the next question after-What are they?
Mooncakes are baked pastries that come in a variety of shapes, sizes and, nowadays, with a wide variety of fillings.
Most popular are those with fillings such as black bean paste, lotus seeds, meat preserve or salted egg yolk.
Many of these fillings are alien to western tastes, but once tasted, many are hooked.
"When I went to China in 1982, I'd never heard of the Mid-Autumn Festival, or mooncakes," Richard Vines, chief food critic at Bloomberg News, told China Daily.
"But all my colleagues were talking about the festival and exchanging gifts of mooncakes.
"I'm both fascinated and delighted that here in England, over 30 years later, they are becoming more and more popular among local people."
Prices are probably a bit higher in the UK than they are in China.
In London's Soho, a single mooncake, suitable for one or two people, can cost 4 pounds ($5.28), while a presentation box of four cakes, in fancy packaging, can cost as much as 20 pounds.
There are variations on the theme. The US ice cream giant HaagenDazs, produces an ice cream version that is wildly popular in China and is now available in the UK.
And more esoteric fillings, not always available in the UK, include ham and rose petal, sea cucumber, and peacock. China's ever-inventive gastronomes have also added such delicacies as crayfish to the list as well.
They should come with a health warning, though. Recent analysis found the average mooncake works out at about 800 calories a slice.
One warning that they do come with though, is one issued by China's anti-corruption authorities, which have warned against giving mooncakes as bribes. In the past, "mooncakes" made of gold, were often given officials in exchange for favors.