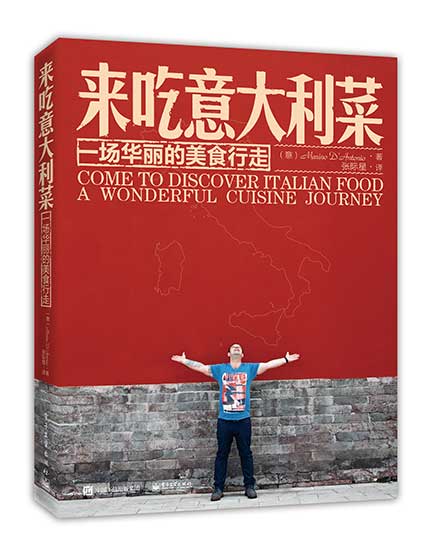 Marino D'Antonio wants to tell the whole story of Italy's many regions, and the different styles of food through the book Come to Discover Italian Food.[Photo provided to China Daily]
"Everything in the book can be prepared in a Chinese kitchen," he says.
That promises readers a lot of great meals in a National Geographic-style adventure, as D'Antonio bounces joyously from Bologna (baked lasagna) to Florence (chicken-liver pate on Tuscany bread) to Pescara (Adriatic-style seafood soup).
Armed with a diploma from the Culinary Institute of S. Pellegrino, D'Antonio launched his career in 1990, ultimately working alongside well-known Italian Michelin-starred chefs throughout Europe. His culinary adventures included an invitation from the luxury cruise line Silversea to create its first Italian restaurant aboard a ship.
His decision to move to Asia led him to open two award-winning Beijing restaurants in 2006, Sophia's and then Sureno, located at the Opposite House hotel in the Sanlitun area. Along the way, he built a reputation for team-building in kitchens that sticks with him today: The first image in the book is not a mouthwatering dish but a two-page spread of D'Antonio with his kitchen crew at Opera Bombana, marching toward the camera and-presumably-some culinary delight.
"I have not seen another chef in Beijing as well connected to his staff or his customers' needs as he is," writes his former Opposite House colleague, chef Max Levy, on a Linkedin recommendation for D'Antonio.
The final pages of the book are devoted to tributes to-and recipes from-a half-dozen chefs with whom D'Antonio enjoyed working, mostly in China. It's as if D'Antonio can't stop delivering what he promises in the book's subtitle: A wonderful culinary journey.