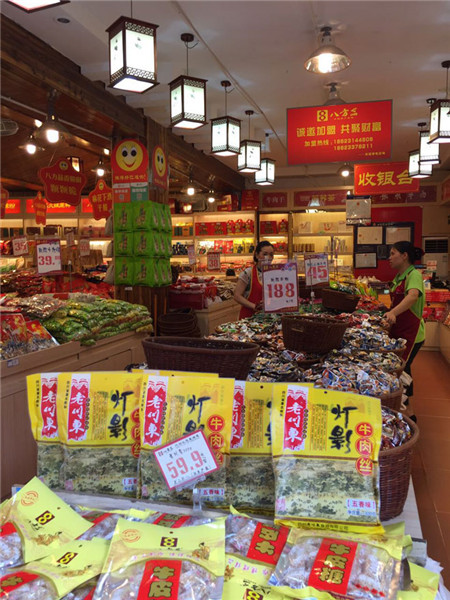 Snack shops at Ciqikou [Photo/CRIENGLISH.com]
Hu Ning is a waitress at a hotpot restaurant in one of the city's most prosperous commercial zones.
"Chongqing has very good hotpot, which you can find nowhere else. The hot pot in Chongqing is the most authentic with the best taste. I can't really explain the flavor, it's just spicy, mixed with heavy flavors. It's a normal thing for us Chongqing people to eat spicy food. We can't live without the chili. For example, we like to eat noodles with chili pepper in the morning. But to many people, breakfast should be light and mild. "
But there are other delicious cuisines in Chongqing as well, and not all of them are spicy.
As you walk through the crowded alleys at the ancient river town of Ciqikou, you will be amazed by the variety the street food available here.
Once a prominent market and trade town for porcelain products in the Ming Dynasty by the Jialing River, Ciqikou has now been transformed into a tourism destination for shopping and dining.
Restaurants, food stalls and snack shops are scattered across the town, offering delicacies ranging from sweet sticky rice cakes, fried Chinese donuts, as well as flavored beef jerky, which are all specialties you find only in Chongqing.
"The sticky rice cake we sell here is a traditional food in Chongqing. It is hand made by striking the rice dough with a stick. Actually it's a common snack food in southwestern region, but the method of making it is different. The rice cake in Chengdu contains more water, but ours is more chewy."
Some shops always have long queues outside them. Chen Mahua is one of them.
Mahua, or fried dough twist, has been a traditional snack for Han Chinese for thousands of years. It is usually considered a specialty in the northern city of Tianjin. But here in Chongqing, Mahua has found another home.
"Tianjin mahua is big in size. But Chongqing mahua is small and crispy. It's quite different. Tianjin's is not as crispy as ours, the texture is soft and it's like bread."
Many say Chongqing food embodies the characteristics of its people -- bold, straightforward and enthusiastic, just like the hot chilies.
So next time when you get an opportunity to visit Chongqing, never forget to try the food, and you'll soon make friends with the people.