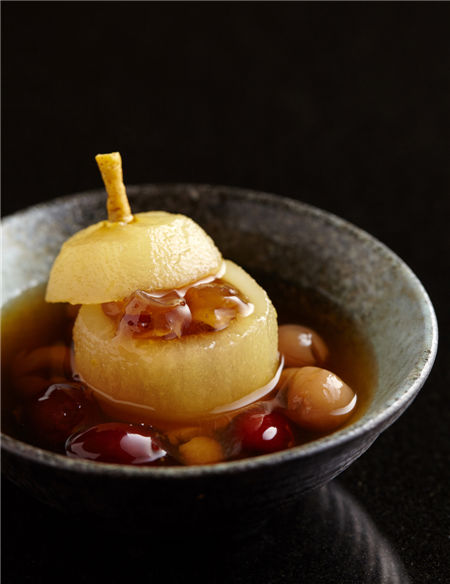 Double-boiled pear with dried longan
"It actually becomes fun to play around with the sheet of dough skin with different tricks. It's no longer a job," the chef says. But the 40-year-old believes sticking to the tradition of making everything from scratch is what makes his dumplings and buns stand out in Shanghai.
While The New York Times and Wall Street Journal have both translated dim sum as "touch of heart", Zeng says what they touch first is the diners' eyes. Only when the eye is caught will the heart and stomach be tempted.
"Dim sums are generally cheap and insignificant," says Zeng, but he scorns chefs who top or stuff the snacks with pricy ingredients - like caviar or foie gras - just for the sake of charging a premium price.
A native of Guangdong province, where this branch of Cantonese cuisine is believed to have originated, Zeng similarly shrugs off yan bao chi, the Chinese shorthand for bird's nest, abalone and shark's fin, the three most popular expensive ingredients used in Cantonese cuisine. The term is now a synonym of any food that is pricy.
Zeng started his trajectory in the kitchen early in the 1990s, when China's reform and opening-up policy was just taking effect. Dining out then simply meant feasting on the most expensive species available among the nouveaux rich, and Zeng jokes that his appetite for yan bao chi had already been sated during his apprentice years simply by looking at and cleaning them.