Chinese sausage: Getting to the meat of the matter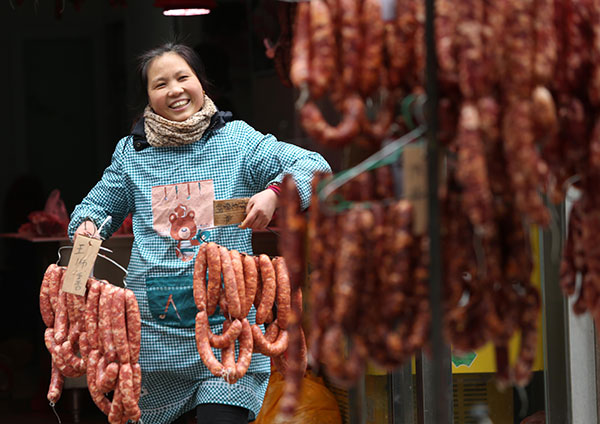 A woman in Xi'an, Shaanxi province, puts newly made sausages outside to dry them. [Photo/China Daily]
Sausage is no stranger to China, but many foreigners are doubtful about Chinese varieties, because they assume they are sweet, bland, greasy or perhaps not of good quality. Liu Dahua, a Chongqing native in his 60s and an established food critic and photographer in China, has lived in Beijing since 1979. He offers some hints on appreciating the country's links.
How did Chinese sausage originate?
Chinese sausages originated in China's agricultural society, before refrigerators, when Chinese found this special way to preserve meat. In many areas, people call sausages la chang, literally the "12th-lunar-month intestine", because in times of scarcity, only at the end of a year would common people slaughter pigs for meat to celebrate the coming Spring Festival. For many families, that was probably the only time they would get meat, and they needed to preserve it for days to be eaten bit by bit. Gradually, people found meat stuffed into pig casings could be preserved for a long time because the intestine coat could block the air and prevent the meat from going bad.
How is Chinese sausage made?
Handmade Chinese sausage uses ground pork and pig-intestine casings. The pork must be in proper portion of fat and lean meat, so that the texture of the sausage would be best. The ground pork, with seasonings added, is stuffed into the casings and then hung under the roof to dry naturally. Sometimes, people smoke the sausage, or use sheep intestines for the casings.
Are there different types of Chinese sausages?
Sausages made in different areas differ in flavors, due to different seasonings added. In provinces such as Yunnan, Sichuan and Guizhou, people like to add spicy seasonings into the pork, such as chili, while in Guangdong province and nearby, people sweeten the ground meat by adding sugar or honey. In other areas, such as Zhejiang province, both kinds of sausages are made, which are often more moderately seasoned.
Where can you get the best Chinese sausage?
Go to the underprivileged areas and the countryside, where traditions of making homemade sausage still exist. Those homemade sausages have no chemical additives, and are the most natural delicacies preserving the original flavors of ingredients. Factory products often use artificial intestine casings, and are unnatural.
How to eat the sausage?
Chinese sausages are a good match to fry with a lot of vegetables, such as garlic, cauliflower, and spicy cabbage, but the best way is to steam them and eat with sauce, which will bring out the full, delicate flavor. Steaming the sausage with rice is another good method, because the rice will become tastier as it absorbs the sausage flavor.