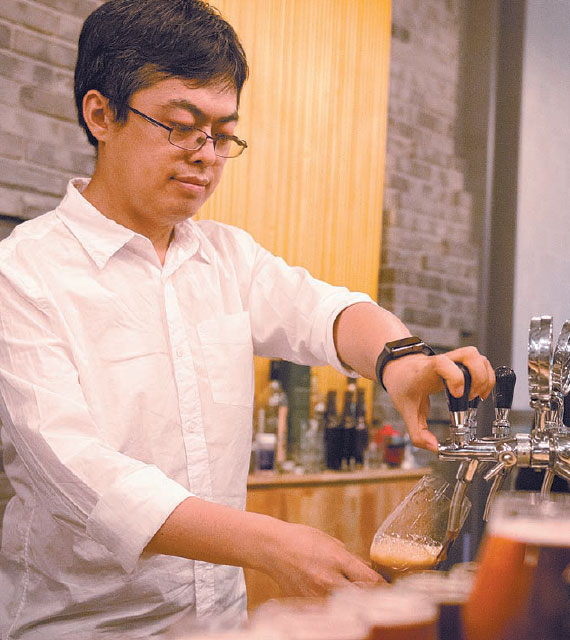 Pan Dinghao says the range of Panda Brew flavors offers something for both Chinese and foreign drinkers. [Photo by Bruno Maestrini / China Daily]
Pan says it took quite a few experiments to figure out when and how to use the bitter leaves during brewing. The resulting beverage has a bittersweet fragrance and a mild, sweet aftertaste that lingers after a sip. Pan says that echoes a Chinese proverb, "sweetness comes after bitterness".
Xia says the taste is just like life.
Kuding Pale Ale has a relatively high alcohol percentage, ranging between 6.5 and 6.9 percent.
Pan and Xia fell in love with craft beers during their school years, respectively in Canada from 2005 to 2010 and the United Kingdom from 2002 to 2003. They met in 2011, and, together with a third partner who has since quit, they decided to build their own brewery and brand when they found the supply of quality craft beer fell short of the demand on the Chinese mainland.
They started a tiny home-brew store of less than 20 square meters in February 2013, using yeast they managed to import from abroad.
Their nine kinds of beers soon became a hit among craft beer lovers in the capital area, and they could afford to open a 200-square-meter pub at the end of 2014.
They also tried bottling their beer to sell it beyond the Beijing area, starting in October 2013. Soon Panda Brew was on sale in bars, cafes and restaurants in 31 cities across China, including Shanghai, Hangzhou in Zhejiang province and Guangzhou in Guangdong province.
Their first bottled beer was Pure Red Honey Ale, which is the most popular variety in the pub, and is an adaptation of the famous White House Honey Ale.