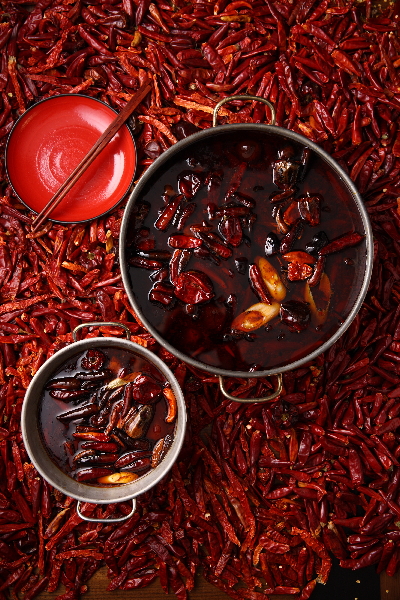 Spicy Sichuan broth.[Photo provided To China Daily]
Handmade beef tendon balls (48 yuan), and cuttlefish balls (78 yuan), contain generous helpings of meat, and little starch seems to have been added. The feel may be less springy and bouncy than with factory-produced tendon balls, but they taste great. One tip for hotpot novices: You know the balls are almost done once they start floating in the hotpot.
An extensive list of fresh vegetables includes enoki and matsutake mushrooms, organic sweet corn, spinach and lotus root.
One other surprise at Red Bowl is its dumplings, which I have not had in hotpot before. They require more attention in cooking because their wrappings are apt to break, leaving the fillings floating in the soup.
We are impressed by Red Bowl's wide selection of drinks that few other hotpot restaurants provide. A selection of Chinese baijiu, such as Moutai, and Japanese sake and shochu, and an extensive list of fine Old World and New World wines are offered.
I sip two Beijing-inspired cocktails: Red Bowl G&T made with tanqueray gin, tonic, goji, lemon and star anise, and a mixed Hutong Daiquiri, comprising plantation three-star rum, strawberry, Sichuan peppercorn, lemon and kaffir lime, a fruity and sweet drink.
The lychee soda-large whole pitted lychees infused in soda with lychee juice - is a great non-alcoholic treat.
Often in hotpot restaurants, cold starters are far from a highlight, but here there is at least one delight: poached black chicken with sour chili sauce (48 yuan). It consists of deboned silky black chicken strips on the surface, which are extremely tender and scrumptious, with flavorful konjac knots beneath in sour chili sauce.
In Red Bowl's opening season there are themed promotions every day. Turn up on Friday for free flow of house cocktails 7-9 pm; or come on Wednesday after 8pm and get 30 percent off your bill; or take unlimited items from the appetizer table free on Sunday.
You will find this is an eclectic hotpot restaurant, combining the flavors of traditional Chinese hotpot and innovative contemporary bar culture.