Beyond the virtual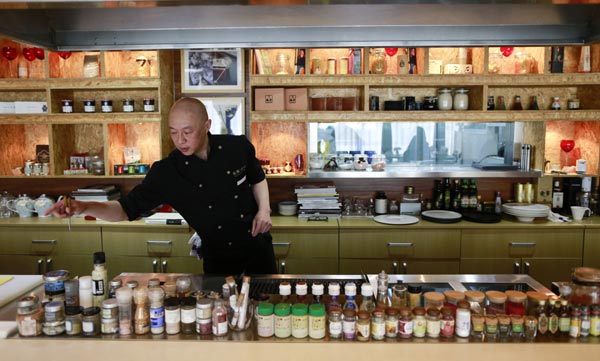 Guo Qiang brings out the best flavors of ingredients by using different cooking methods. [Photo by Feng Yongbin/China Daily]
The Beijing native has been cooking in famous Italian restaurants, such as Armani, Pastarito and Nobu, since the late 1990s, before returning to his hometown in 2005. He has catered for foreign embassies in Beijing, and once cooked for a Greek president and also for a mayor of Milan.
Today, after more than two decades in professional kitchens, Guo Qiang cooks for the online universe.
As chief chef and co-founder of Benlai Cook­house, a restaurant affiliated to China's leading online shopping platform for fresh food and ingredients, Guo says he has an advantage over running a conventional restaurant.
As an offline showcase of Benlai.com, Guo says, "Here my priority is to create delicious food based on the various ingredients I have."
The chef, 44, frequently used the word "works" to describe dishes the restaurant serves. Guo's confidence lies in his proficiency in using different cooking methods to bring out the best flavors of ingredients.