Pret A Manger prepares for sandwich battle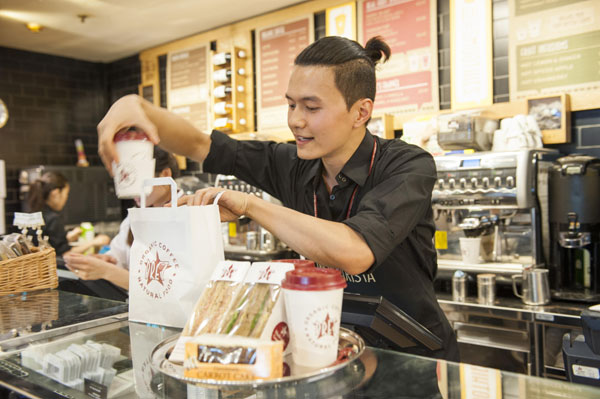 A barista at Pret A Manger London store. The British fast food chain with an emphasis on organic and healthy food is going to open a sandwich shop in Shanghai this month. [Photo provided to China Daily]
British fast food chain due to open first outlet in Shanghai's newest mall
A battle is about to commence on Oct 16 at the back lobby in K11, one of Shanghai's recent shopping mall and office developments, a battle not fought with guns and rifles but with Scottish salmon and egg mayonnaise.
It is a battle about sandwiches, the triangular slices of bread filled with delicious fillings that have been sold from street side groceries at less than one dollar to the most high-end Western-style restaurants on the Bund, replacing dumplings and rice as the major staple at lunch for millions of office workers in Shanghai and the rest of China.
As the British fast food chain Pret A Manger makes a final sprint toward the opening of its first outlet on the Chinese mainland, radical changes are expected in the fast food industry in China, which has long been dominated by fries and burgers.
"What we offer is real food," said Clive Schlee, the CEO of the London-headquartered company. Founded in 1986 by two college graduates, the company is hailed as "launching a high-street food revolution" by offering packaged sandwiches, freshly wrapped from the back kitchen of the shop. Just as its name means in French - "ready to eat".
From its signature superclub sandwich to hot soups tailored for the Asian market, the common factor of all the food is no chemicals, no additives and everything is organic.
"Pret is coming with a level above the average foreign fast food chain," said Schlee. "We are targeting young office workers, which has been our tradition right from the beginning."
With a decade of working experience in Hong Kong for multinational conglomerate Jardine Matheson, in charge of the group's fast-food brands such as Pizza Hut, Sizzler and Taco Bell, Schlee believes that Chinese young people have a much larger appetite for Western food than their parents' generation.
Shanghai has no shortage of cafe-sandwich-shop chains to meet the growing demand.
In 1999, just before Pret A Manger's founders Sinclair Beecham and Julian Metcalfe were awarded an MBE in the Queen's Birthday Honours List for services to the catering industry, the Denmark entrepreneur John Christensen found a spot for himself in Shanghai's food business with a Nordic-style coffee and sandwich shop called Wagas.
In 2002, as the British chain started its expansion into Asia, first in Japan and a month later Hong Kong, a former chef from United States who made a living by teaching English in Shanghai, Scott Minoie, resumed his previous profession by starting a slightly more-formal-than-cafe restaurant called Element Fresh. He was driven by a similar goal - to satisfy the need for an original, safe and delicious sandwich or meal.
Both of those two ventures have become successful food companies overseeing a total of twenty-or-so outlets mainly in Shanghai and Beijing, with local Chinese making up the lion's share of their clientele. At some of Wagas' less centrally located stores, the percentage of local Chinese could be as high as 80 percent, the company said.