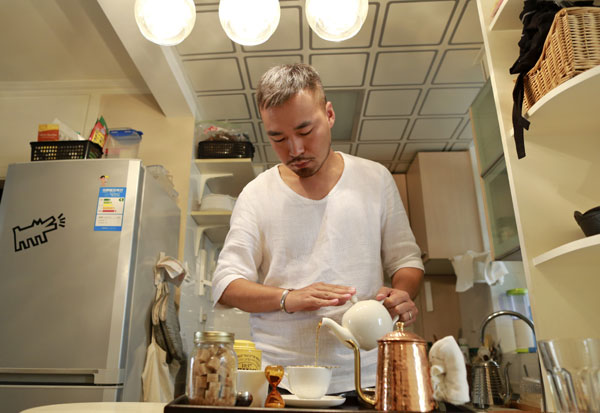 Dong Yang has different menu for different months.[Photos by Feng Yongbin / China Daily]
Two young people attract foodies to their private kitchens, as Dong Fangyu reports.
A decrepit location with delicious food
On a Sunday morning in late August, I approached a ramshackle six-story residential block hidden away in southeastern Beijing, and had to steel myself to walk down the dark coridors and climb to the fifth floor. I then wandered around the dingy corridor for several minutes before spotting the faded room number painted on the door, which was suddenly opened before I knocked. The owner was immediately recognizable - Dong Yang, an epicure, whose private kitchen (a residential space open to paying visitors) is a prime attraction for hungry foodies.
The unprepossessing location of Dong Yang's Private Kitchen may be offputting for some potential diners, but once they enter the house, their worries will evaporate. The clean open kitchen, the soothing jazz music, the natural fragrance of essential oils, a large stack of books, and a delicate teapot, all make you feel at home and relaxed.
Private kitchens are renown for their limited number of tables, but Dong Yang's is the ultimate in minimalism because it has only one, with seating for just three people.
To reserve a table, one has to book at least two weeks in advance. Dong's kitchen is only open on weekends and on public holidays when the owner has time away from his regular weekday job as a book editor at a publishing house.
His private kitchen only opened in May, but news soon spread among Beijing's many foodies because of Dong's innovative savory dishes.
He said the popularity of his private kitchen was a surprise and has far exceeded his expectations. He does not plan to expand, though, and try to earn a living as a chef. "It would be terrible if my interest became my work", he says.