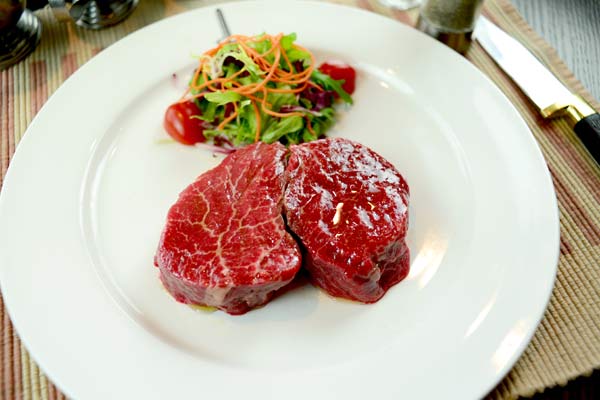 Quality meet cuts, like beef tenderloin, are key in the grill room.
There is another Obelisco restaurant in Buenos Aires, which has the same fine-dining elegance and, like its Beijing facsimile, a wine cellar to make a gourmand weep. In the cool confines of the cellar in Shunyi lurk some vintages that are decades old, but the immense stock includes price-friendlier bottles as well. The labels are generally Argentine, but choice vintages from Chile and Uruguay can be found, too.
The meat of the matter at this steakhouse, of course, is steak. Obelisco serves up prime cuts from the pampas, the grassy plains of Argentina that have fostered generations of cattle ranches and mouth-watering T-bones. Our favorite on the menu was a mountainous tenderloin, tender and juicy, exquisitely medium-rare-a request that's a high-risk maneuver in much of China but business as usual here. Here, "fancy restaurant" doesn't mean a fabulous but tiny morsel on the plate. The mains here are big enough for a gaucho appetite.
Like Chinese diners, and there were plenty in the dining room on our most recent visit, Latin Americans appreciate some parts of the cow that don't excite other Westerners. At Obelisco, you'll find achuras (kidney) and sweetbreads that make visitors from South America sigh with delight-served on an appetizer platter with two kinds of sausage. Starters with more universal appeal include empanadas, the Argentine fried pastries filled with meat or corn-and-cheese. Or choose the quick-fried prawns with chili, garlic, baijiu (Chinese white liquor) and vanilla sauce-a flavor combination that lingers fairylike on the palate and memory.
Spanish ham, marinated goose liver with port-wine sauce and a cheese platter were all winning cold starters on different visits. There are several impressive-looking salads on offer as well.