Restaurant Week invites dining adventure to China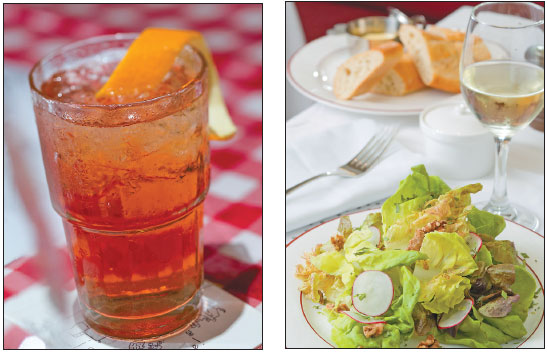 The Boulevardier and green salad with walnuts at La Vache. Provided to China Daily
In a foodie's town such as Hong Kong, the very concept of Restaurant Week seems redundant. We have a plethora of good restaurants for all types of budgets and, with a very few exceptions, it is often not difficult to snag a table at one of them.
Yet this sixth edition of the popular Restaurant Week is also happening in Beijing, Shanghai, Guangzhou - in fact, in a total of 36 cities around the world. A record 85 restaurants ranging from five-star hotel outlets to independent private kitchens are participating, more than double the 41 restaurants available when it first started in 2011.
What makes the concept appealing is its structure. Modeled after the original Dutch edition in 1998, restaurants are given three fixed prices for lunch and dinner that they must meet with a minimum three-course set menu. Diners book online to secure their spots at a limited number of tables per venue.
"The prices are close to but less than what the items would cost on the regular menu," explains Synthia Liem, general manager of Dining City Hong Kong and the organizer of Restaurant Week Hong Kong since its first edition in 2011.
"When it first started in the Netherlands, the Internet hadn't taken off yet," she notes. "Our launch in New York City was very successful, and we saw an opportunity in Hong Kong for the same type of event."
One of the newcomers to participate is La Vache, the latest offering by Syed Asim Hussain and Chris Mark's Black Sheep Restaurants. Along with their other outlet Boqueria, which is participating for the third time, La Vache has set aside 20 percent of its tables for Restaurant Week.