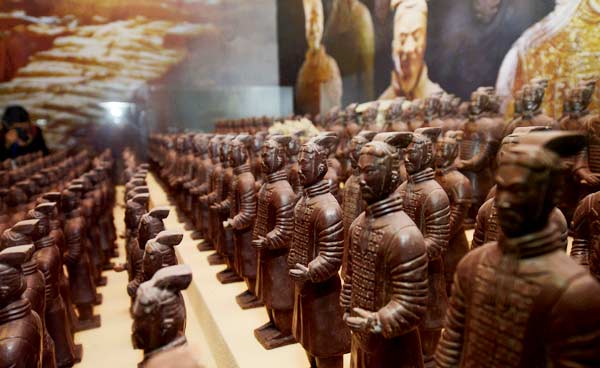 Chocolate Terracotta Warriors at the World Chocolate Wonderland in Chongqing. [Photo by Gao Yuan / for China Daily]
Chongqing is known for its hot and spicy cuisine but from now until March, locals and visitors can also savor sweet chocolate in the city. Luo Wangshu and Tan Yingzi take a tour of the World Chocolate Wonderland.
The chocolate factory has come to Southwest China, but without eccentric chocolatier Willy Wonka from the book Charlie and the Chocolate Factory. Chocolate theme park World Chocolate Wonderland arrived in Chongqing on Dec 30 and will remain until March 31, offering a visual and sweet feast to locals and tourists. "I had so much fun today," 20-year-old Guo Xueyu says, adding that immersing herself in a sweet chocolate kingdom is one of her dreams come true.
Guo, accompanied by her boyfriend Wang Yi, visited the wonderland on the opening day.
"She loves chocolate. It is also a special food between lovers," Wang says.
The young love birds say they had an amazing time seeing chocolate used in weird and wonderful ways and participating in fun games. More importantly, "I can eat as much chocolate as I like, and forget about dieting just for one day," she says.
The theme park is located in Yongchuan city, Chongqing, and the entrance ticket is 80 yuan ($13).
Just like in Charlie and the Chocolate Factory, there is a tunnel in the World Chocolate Wonderland. A chocolate-colored castle is among the amazing surprises that await visitors. The chocolate park has seven pavilions, including one for chocolate-made Chinese culture, a DIY activity area and a delicious tasting corner.
The Chinese culture pavilion attracts many visitors. More than 400 chocolate Terracotta Warriors are neatly lined up in a square, looking as if they are about to march to war. But, weighing 4 kilograms each, these 30-centimeter-tall warriors are edible.
Another piece that draws attention in this section is the 12-meter-long chocolate replica of Dwelling in the Fuchun Mountains, one of the few surviving works by the painter Huang Gongwang (1269-1354) which is considered to be among his greatest works.