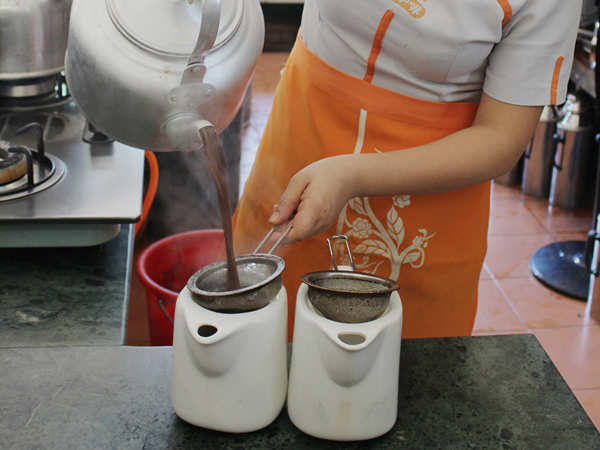 The locals in Hainan province brew coffee in big iron kettles and drain it through cotton fabric or iron filters. [Photo by Mao Pengfei/China Daily]
In a land famous for its tea, Hainan island has a history of coffee which its residents claim tastes of earth, wind and fire. Mao Pengfei from China Features takes a sip.
In the 1960s, when China's economy was strictly centrally planned, Hainan's thousands of hectares of coffee orchards were State owned. No one could pick coffee cherries without permission - except the birds.
The birds ate the best coffee berries and their droppings would contain coffee beans, which Liang Dingwei's uncle was happy to collect from the ground.
Those beans were rare in a time without free markets. They were washed, peeled, dried, roasted, ground and made into coffee that Liang can't forget.
"Its fragrance was irresistible, but this kind of coffee is nowhere to be found today," says 53-year-old Liang, president of the Coffee Company of Xinglong Overseas Chinese Farm, which was founded in 1952 and claims to be China's first State-owned coffee plant.
"No one has to collect beans from bird's droppings for a cup of coffee anymore. We can buy coffee anytime, as it has become a part of our life," he says.
Fushan: Taste of earth, wind and fire
Hainan coffee, as the locals say, tastes of earth, wind and fire. The secret lies in the local environment and processing methods that have been passed down through generations.
Coffee arrived in Hainan in 1935 when Indonesian-Chinese Chen Xianzhang introduced robusta coffee to the Fushan area of Chengmai county.
With a latitude of 19 degrees north, Fushan has an annual average temperature of 23 C, sufficient sun, abundant rain and a red earth rich in minerals from volcanic ash, just like Hawaii, where kona coffee grows.
The robusta thrived in this environment, evolving into a coffee with a unique fragrance.
"We select the best local beans and process them in the traditional way. That's why it tastes so special," says Xu Xiang, manager of the Fushan Coffee's flagship shop in Fushan town.
Traditional processing methods introduced from Southeast Asia by returned overseas Chinese require coffee beans to be naturally dried on the ground, roasted with butter and sugar, and ground in a stone mill.
Xu, 41, still remembers how she and her five siblings and their parents roasted coffee beans when she was young.
"We set up big pots on the stoves. My elder sister and I kept turning the beans in the pots with shovels. My father would take a handful of beans and smell them from time to time and ask other children to add butter and brew syrup. When he felt the beans were ready, we put them into the syrup and fried them until they turned black and shiny."