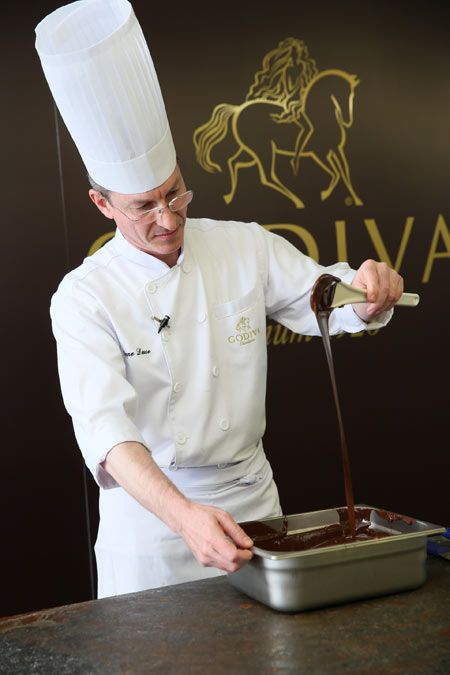 Godiva chocolatier Philippe Daue demonstrates his craft. Photos Provided to China Daily
"You don't look like a chocolatier. Usually, a chocolatier is plump, with a big belly," a reporter says when she meets Philippe Daue, chef chocolatier for the Pacific Rim and China at Godiva, the Belgian luxury chocolate brand.
Slim, tall and speaking in a soft voice, the native Belgian is a fourth-generation chef, and his father is a famous bearer of two Michelin stars. Appearing at a recent exhibition about chocolate truffles in Beijing's APM Shopping Mall, the master confectioner comes to demonstrate the making of a box of chocolates.
"If you enjoy high-quality chocolates, you will not become fat. Actually, dark chocolates are good for your body and mind," he says. He's referring to chocolates with a high percentage of cocoa and a correspondingly low level of milk and sugar.
"When you see different truffle chocolates, you can see different trends and styles of chocolates over different years," Daue says.
The first Godiva chocolate truffle was created just after World War II. It was difficult then to find butter and cream to create quality chocolates, but Pierre Draps, founder of Godiva, managed to do it — that is why the chocolates named Truffle Draps Original 1946 were so famous.
By the 1950s and '60s, the candy styles were becoming more sophisticated. Chocolates began to include more ingredients, like praline, nuts and almonds. In 1990s, coffee enjoyed a surge of popularity, and chocolates with coffee flavors quickly followed.
However, after entering the new millennium, people began to prefer the strong chocolate tastes with a higher percentage of pure cocoa. In 2013, the trend went all the way back to the 1946 truffle, with chocolates that embraced exactly the same shape and flavor — more organic, and with more vanilla flavor in dark chocolates.
Daue created his first chocolate when he was about 14. He says Belgium is famous for its chocolates and its well-kept culinary traditions, and he is still using those skills that he learned from a chocolate master when he was a teenager.