Shanghai courts are stepping up their efforts to tackle crimes that jeopardize food safety, with prison sentences for offenders rising from just over three years on average to five years and seven months.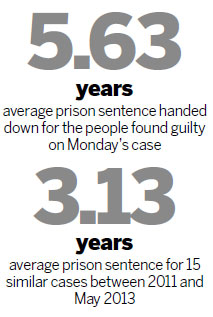 The longer sentences result from a judicial explanation covering such cases that the Supreme People's Court and the Supreme People's Procuratorate issued in May 2013.
In six cases on Monday, courts found 10 people guilty of food safety violations. The average of the prison sentences handed down was 5.63 years, compared with an average of 3.13 years for 15 similar cases between 2011 and May 2013.
The six cases on Monday included the use of illegal chemicals and the sale of expired foods such as pork, oil, mooncakes, and crawfish, affected many people, said Xiao Wanxiang, presiding judge of a criminal tribunal at Shanghai High People's Court.
In one case, Ni Xiaogang, the manager of Shanghai Gurun Trade Co Ltd and Shanghai Ruijun Industrial Trade Co Ltd, was sentenced to 13 years in prison, four years more than the longest sentence previously given for such a case.
Ni bought tallow oil from Australia and New Zealand fully knowing that it was suitable only for industrial use. He then sold it to an edible oil producer, Shanghai Shiming Oil, between February 2010 and January 2012, making more than 37 million yuan ($6.07 million) in profit.
Related: Yili looks to Italy for better milk