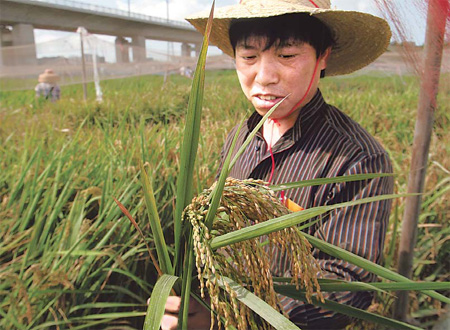 [File photo]
Our society appears surprisingly polarized on genetically modified crops.
At one extreme, hardcore proponents claim that GM crops are safe; public opposition is a result of ignorance; and foot-dragging on their commercialization compromises national food security.
At the other extreme, die-hard opponents say GM crops are harmful; proponents have hidden agendas; and hurried commercialization threatens our national food chain.
Trapped in between is the poor public, which has been confused by the overwhelming feed of contradictory messages from both ends of the spectrum. With scientists disagreeing, and competent authorities waffling on the issue, the average citizen is lost. The prevailing plot theories, with the complexities of corporate and departmental interests, along with rumors about long-term health consequences and security pitfalls, amplify the mysteries surrounding GM crops and subsequent worries.
GM crops remain a contentious topic even in Western societies. Debates and even fear are understandable in that such engineered species are still new and some of their properties are yet to be identified. Which is why, given our full support for exploiting the possibilities of genetic engineering, we prefer a prudent approach in the commercialization of GM crops.
Dozens of academicians of the Chinese Academy of Sciences and Academy of Engineering have reportedly appealed to central leaders to accelerate industrialization of GM rice, saying they would be compromising national interests otherwise.
Rationalizing the discourse about GM crops, however, may be more imperative than accelerating commercialization. Rational discourse is conducive to our evaluation and informed judgments of such crops, while helping dispel unnecessary fear of GM foods.
Sources with the Ministry of Agriculture just refuted as a rumor a report that some GM foods have the potential to cause cancer. The ministry should engage more actively in the discourse with unbiased information. Lack of trusted sources of information greatly limits the discussion.
Thanks to the belief that industry insiders, experts, and even government officials may be hijacked by special interests, a government white paper may be the only credible way to break the impasse.
A white paper that outlines the state of the research and policies, as well as the application and management of GM crops at home, or even better, with corresponding overseas information, would be a great public awareness campaign in itself.