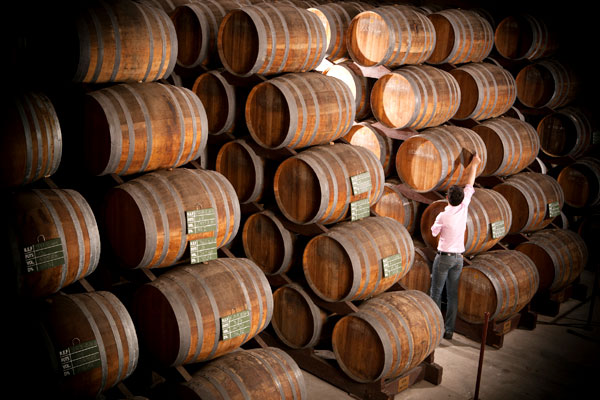 The ancient oak barrels are used to age the apple brandy, which the locals call calvados. [Photo provided to China Daily]
The distillery's museum features the tools of its trade as it has been passed down through the centuries, from the ancient hoe's that tilled the local soil and apple orchards, to the creaking wooden grinding wheel that once turned the more than 200 varieties of apples into the "must" that would become cider, first, before being run through copper stills and then aged in those oak barrels as the distilling process transformed into calvados brandy.
With an alcohol content of around 40 percent, calvados comes in four grades - Trois pommes (at least 2 years old), Reserve (at least 3 years old), VSOP (at least 4 years old) and XO (at least 6 years old but often up to 50 or more years old).
"Calvados really first became famous outside this region in the 1920s," says Saloux. "In Paris and New York it became the drink of high society where the fashionable set would sip it on the rocks, with tonic or in cocktails."
During the World War II, local pilot Marcel Lefevre of the famed Normandie-Niemen Regiment - which had been relocated after the fall of France to the Eastern Front to fight alongside Russian forces and was noted for its bravery in battle - was so inspired by the courage he believed calvados gave him that he had the face of the character found on the Pere Magloire label painted on the side of his aircraft.
"It is a drink that people seem to form a very personal relationship with," explains Saloux. "People also become very particular about how - or even when - they drink it."
Hence there are those who will only take their calvados straight as a digestive, or those such as the famed bartender Colin Field from the Ritz in Paris who likes to add its apple flavors to his cocktails. The liquid is also commonly used in the region for cooking, again adding its apple flavors to tarts or to cream sauces such as those used with escalope dishes.
"But only very young calvados - 2 years old - should be used for cooking," laughs Saloux. "My brother once saw someone used XO calvados in a sauce and nearly had a heart attack."
Just how popular the drink has become globally is reflected in its export figures. Of an estimated 10 million bottles of calvados the Normandy region produces each year, it is estimated more than 50 percent is now sent to overseas markets.
For Boulard, the challenge now is win over the taste buds of a Chinese consumer.
"We are welcoming more and more Chinese tourists to our region, and they are learning more and more about what we think makes Normandy special," he says. "And calvados lies at the very heart of that."