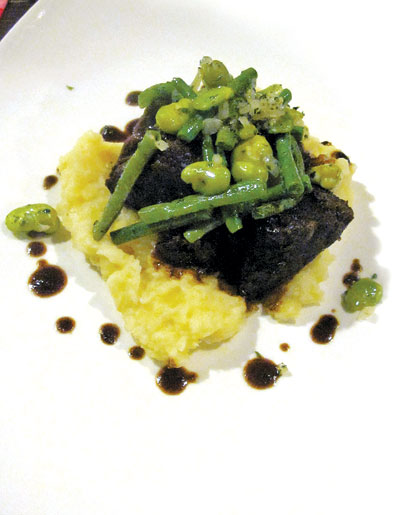 Braised beef cheek, marinated overnight in a red wine sauce with rosemary-picked plums, is served with fresh broad beans and mashed potatoes. [Photo by Mike Peters/China Daily]
The arrival of fall's cool weather stimulates our palates in different ways. Westerners suddenly crave roasted meats and root vegetables, while Chinese diners take the chill off by huddling around hotpots. Both have found beer to be a pleasant way to wash down such happy meals.
Germans have a particular gift for making the most of their hearty seasonal fare. First, they perfected the art of roasting pork knuckle. (You'll never convince me the gods at Valhalla ate anything else). Second, they enshrined the robust pleasure of eating and drinking in Oktoberfest.
So now is the season to find waitresses who can tote eight steins of beer in each hand. A good place to get in the spirit is in Financial Street's Seasons Place. Once inside the mall, take the down escalator and walk to the eastern end, where the cozy Ellingen Brauhaus awaits.
First order of business: Wheat, lager and dark beers, preservative-free and fresh from the sturdy copper kettles in the background. You can order the flavor of your choice in three sizes of glass mugs. You can also order bottled beer or one of the well-made bar cocktails. But if you're wearing your lederhosen, do you really want your picture taken without a big, foaming mug of beer? Naturally not.
If you were salivating at the mention of roasted pork knuckle, you won't be disappointed here: Order a half or a whole joint and savor the perfectly crisp, crackling shell and the juicy pork inside. It comes with sides of creamy mashed potatoes and the spiritually required sauerkraut.