Home baking heating up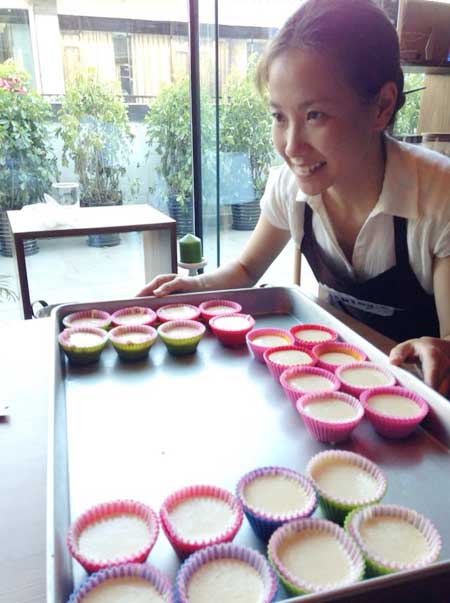 A student is proud of her newly made cupcakes.
They have tailored their recipes for Chinese customers, who do not like things to be too sweet. "Mark was very surprised to know that Chinese people don't like the strong taste of sweetness. But later on, he learned that Chinese foods have many layers of flavor," Shao said.
Now employing about 40 people, Pantry's Best has about 20,000 customers with each order averaging 200 yuan.
Online shops that sell baking utensils and ingredients have also seen a boom. Jiayouzhubi is one of those most frequently visited by home bakers in Beijing. Guo Guiping and her team founded the shop on Taobao in 2005 but it was only in the last two years that her business started to take off rapidly. "People began to have a growing passion for baking," she said. "Our orders are so big that we never manage to dispatch them all in one day."
Their popular items vary by season. Mooncake molds and utensils are most popular this month as Mid-Autumn Festival approaches. In summer, ice-cream molds are bestsellers, she said. But in general, baking utensils are the most desired.
"The interesting part of baking utensils is that if you buy one for a cake, you want to get another one for pizza and another one for pudding," she said.
Their revenue has doubled in two years. Guo said the availability of cooking and baking methods, recipes and tools on the Internet has greatly pushed the sales of related products. Secondly, unlike supermarket retailers, online shops have a wider selection and provide delivery. Jiayouzhubi also sells imported foods such as vanilla beans. Such ingredients are often hard to find at regular retailers, Guo said.