Pastry enthusiast enjoys cooking for friends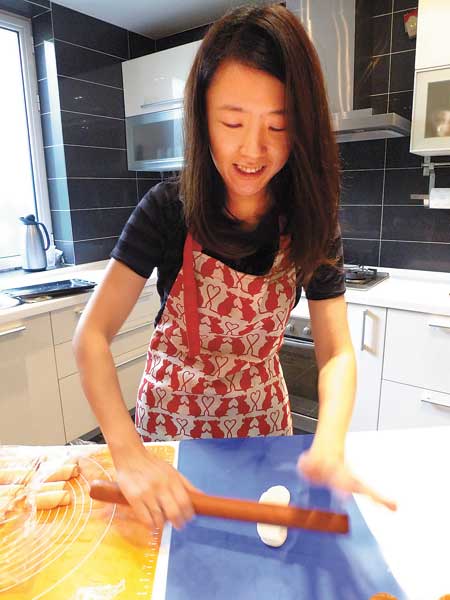 Wang Hongyan makes mooncakes at home. Photos by Ye Jun/China Daily
Beijinger Wang Hongyan gets a bit busy before Mid-Autumn Festival, which falls on Sep 19 this year. For the past three years, she has been making mooncakes by herself and giving them to friends.
Why?
"When I give the cakes to friends, they really like it," says Wang, 41, who owns a clothing store in Beijing.
This year she made 400 mooncakes - the most she's ever baked.
Wang purchases all of the ingredients on her own. When she finishes baking, Wang packs the cakes neatly into small boxes she buys on the Internet. They look as good as the ones sold at pastry shops and taste better.
Like her friends, she has grown tired of the mooncakes sold at the market.
"They all taste the same, and most of the time they are too oily and too sweet," she says.
Wang began baking in 2007, when she moved to a new house with a big kitchen. She purchased all the equipment needed and printed recipes from a micro blog.
But she soon found she could not just rely on the Internet. So she used Wayne Gisslen's Professional Baking, an authoritative book on the subject.
"The Chinese translations of baking recipes are often not accurate, which can lead me to use something different," she says.
For example, the term "self-rising flour" refers to flour with baking powder, but in China it is flour with yeast.
Wang is now able to bake all sorts of Western pastries. The most complicated cake she has made is an opera cake with nine layers. But she considers bread the most difficult item to make.
"That's because the flour to make bread takes a long time to leaven. The extent of leavening, and the extent of kneading is rather difficult to grasp," she says.
Cookies are the easiest to bake, followed by cakes.