Tianjin Muslim palate pleasures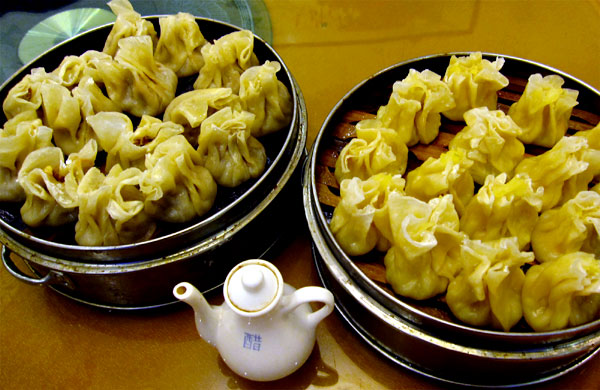 Yu Quan restaurant presents a menu of clean taste and authentic Muslim cuisine, featuring braised ox tail, shaomai and sauteed beef tripe. [Photo by Wang Yuke / China Daily]
There are few Muslim restaurants in Tianjin, but there is one that is catching the attention of local gourmets.
Yu Quan restaurant is the brainchild of Chai Jinliang, one of a few Muslim cooking gurus in the city. Located in an inconspicuous spot along a quiet avenue, the five-year old eatery is attracting a following simply by word of mouth.
The chef-owner himself is just as low key, and he is quick to credit all his skills to his mentors Wang Chuntong and Pu Denggui, two very famous Muslim chefs of the 1970s. While many of his fellow apprentices have fallen by the wayside, Chai has persevered.
Now with almost 40 years of experience under his belt, Chai is ready to make his mark.
His signature steamed flatfish or sole is an original masterpiece. The snow-white fillet is neatly cut into four chunks, with a gleaming light brown glaze and garnished with finely shredded curls of spring onions and gingers. A sizzling black bean sauce added at the last moment sharpens the sweet flesh.
The fish is chopstick tender and the silky texture makes it taste like cod.
Like all good dishes, there is an anecdote behind the stroke of genius.
"A friend dropped by my restaurant, so to show my hospitality I decided to cook for him. I only had some live fish at hand, so I grabbed some and whipped up an impromptu dish. He liked it so much that I have added it to my menu."
But Chai is also aware that modern diners are more health conscious so he tinkered with the recipe to accommodate those who prefer a low fat, low sugar and low salt diet. He says his secret to making ordinary fish taste so good is simple. It's all about quality, and he lets the ingredients speak for themselves.
"A relative has a huge freezer, and that gives me an advantage when it comes to stocking up ingredients. If I find batches of premium supplies, I will import in volume."
There are other dishes that must be tried. One of them is the fried prawn balls, made with crystal prawns as large as a fist, accompanied by the emerald of cucumbers and orange of carrots.
"I take pains to prepare prawns and other seafood products properly," the chef notes. "On top of that, the frying pan must be cleaned carefully, because old oil residues will taint the taste."
By Chai's account, Muslim cuisine has its own expression and personality in different regions of China.
"My restaurant is dominated by 'white' dish."
If you look at the menu, the cleanliness of taste and look pops right up, like another "white" signature dish, the sauteed beef tripe and celery.
The normal pungency of the celery is carefully neutralized and instead of over powering the tripe, actually complements it. The secret, says Chai, is the use of white pepper.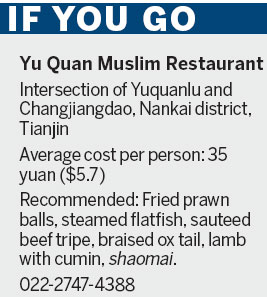 He also drizzles garlic juice and sesame oil as finishing touches, but they are so subtle you can hardly tell.
He says to make the tripe tender, he pops it into a pressure cooker and times the cooking with precision so it is just tender but not overcooked.
To get an authentic Muslim culinary experience, you may also need to pluck up courage to try the beef heart, liver and kidney. With the chef at the helm, they may be an epicurean surprise.
To round off the meal, the chef recommends a hearty staple, shaomai, or steamed dumpling pinched into open blossoms.
These Muslim versions may be less dainty than those on Cantonese dimsum carts, but their robustness is exactly the attraction. They are generously filled with minced beef and shrimps to please the most carnivorous of diners.
At Yu Quan, chef Chai is particular about to the smallest details, like changing his cooking oils to suit the ingredients. Thus, seafood is cooked with chicken or duck fat, braised beef in soy sauce has wild pepper oil added and vegetables are prepared with a seasoned vegetable oil scented by deep-fried onions and ginger.