Dream of a banquet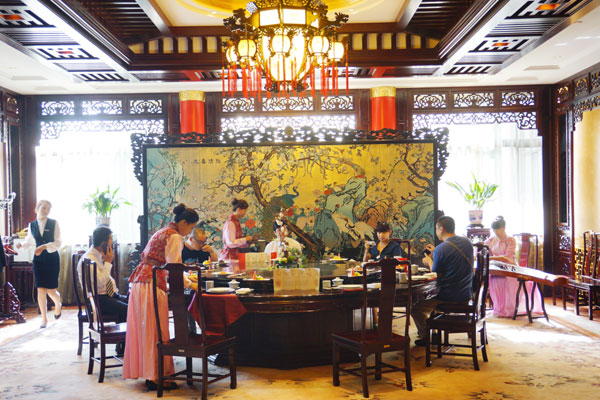 Yangzhou State Guesthouse serves its Red Mansion banquet in an atmospheric room.
Scholars believe the lives of big families written in A Dream of Red Mansions is based on the author Cao Xueqin's own life in Yangzhou.
"The family of Cao Yan, the grandfather of Cao Xueqin (1724-64), lived here for several generations," says Chen Wanqing, deputy general manager of Yangzhou State Guesthouse. "Cao Yan was an important official in charge of salt transportation of the area. Therefore we think Cao Xue-qin's novel is based on his early life in Yangzhou."
Chen says Yangzhou chefs started to collect materials for a Red Mansions cuisine since late 1970s. A set of cuisine was formed in the late 1980s. Since the beginning of 1990s, the cuisine spread to many parts of China, receiving very warm response.
Yangzhou State Guesthouse has presented the food at more than 20 countries and regions over the years.
There are four parts in the banquet: decoration dishes, cold dishes, main dishes and dim sum. Daguan Yipin, or first class dishes of Daguan Garden, where Jia Baoyu lives, is a set of dishes showcasing delicate and elaborate cooking skills, mostly for appreciation.
One example is "pine tree and crane for longevity", a dish that looks like a painting made with egg, mushroom and cucumber slices. "Peacock flaunting its tail" is made entirely with prepared flour.
Red Mansions banquet has a set of simple but delicious cold dishes, such as eggplant with nuts, and duck tongue flavored with yellow rice wine.
Qiexiang, diced eggplant with nuts, is a dish Wang Xifeng, a domineering woman role in the novel, shows off to Liu Laolao, a distant relative from the countryside. It is a typical dish reflecting how elaborate a simple dish can be, using ordinary ingredients but complicated cooking methods. An eggplant is peeled, diced and deep-fried with chicken oil. Then it is fried together with diced mushroom, bamboo shoots, bean curd and an array of nuts such as pine nuts, which are first soaked in chicken broth for its flavor, and then dried.
The grand banquet itself features big dishes that used to only appear on important occasions, or only to treat important guests. Some of these are clear-steamed Reeves shad, and "lion head" pork meatball in clear soup.
The fourth part of the banquet has various dim sums recorded in A Dream of Read Mansions.
The banquet is now available at the guesthouse for breakfast, lunch and dinner. Because the preparation is complicated, the hotel and its restaurant offer it only to groups with more than five people. Patrons can order a set meal, or a la carte dishes.
Zhou Xiaoyan, Huaiyang cuisine master, says Yangzhou cuisine has deep cultural meaning.
"First of all, it is very particular about the right ingredients," he says. "A lot of attention is placed on using seasonal produce. Ingredients don't need to be expensive, but must have high quality."
Zhou says to recover the cuisine style recorded in the book, chefs need to both follow the book, and cater to modern people's consuming habits, which stress nutrition and health.