Tea for two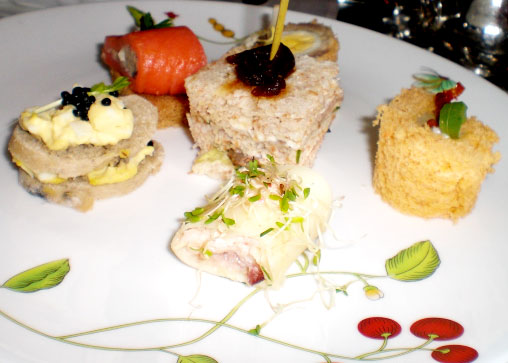 The Valrhona chocolate-themed afternoon tea set at Palm Court highlights sandwiches and savories on the bottom tier. Photos by Donna Mah / China Daily
Looking for things to do or places to go with your children this summer? How about bringing them for tea? Donna Mah shares her experience in Hong Kong.
Summertime is a great time to introduce different dining options to your children. Taking my daughter out for meals used to be more challenging, but now that she is four and interested in doing "big girl" things, she gets very excited when she has a chance to go out - "just mama and me".
Eating is actually not something my daughter is good at. She is sometimes a picky eater and she doesn't eat very much as a general rule.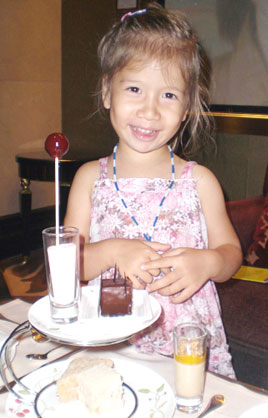 Enjoying the "tea for me" is a "big girl" thing.
This may stem from an incident where she was out with me for most of a day and ate all kinds of goodies she normally didn't get at home.
In a taxi on the way home, she threw up all over herself and immediately decided that it was because she had eaten too much. Since then, she has been careful about not eating too much before any motorized form of transportation.
As a treat one day, I told her we would be going out for afternoon tea. I explained that there would be lots of delicious small items to eat and that she could choose her own drink. Mama would be sipping a cup of tea. She rushed to her closet, chose her outfit, and wanted to know when we would be leaving.
Afternoon tea was at the Palm Court in The Langham in Tsim Sha Tsui. They served a Valrhona chocolate-themed afternoon tea.
My daughter loves chocolate, so she was pleased to be given the choice between a hot chocolate and an iced chocolate for her beverage.
She chose the iced chocolate, a good choice considering we had just come inside from the heat and humidity of the outdoors. Children can enjoy their own afternoon tea set for HK$98 ($12.50) with an accompanying adult ordering the grown-up version for HK$228 (HK$408 for two people).
Brought to the table on a tiered serving platter, sandwiches and savories were on the bottom with sweet treats on the upper tiers.
I usually start at the bottom and work my way up. The children's set had a mini ham and cheese sandwich, and a mini chicken and mayo sandwich on the bottom tier.
My daughter was impressed by the presentation of her meal and wanted to know, "Is this all for me?"
She ate the caramel and dark chocolate lollypop first and pronounced it, "Yummy!" My set also had one, which I ate after eating the slow-cooked corn-fed chicken and foie gras wrap, Scottish smoked salmon, cep duxelles, horseradish cream, and candied beets, a quail Scotch egg, and more.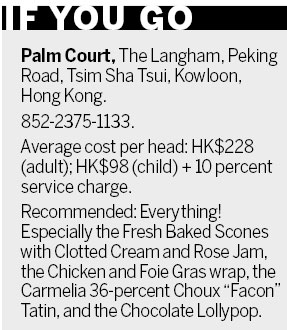 My favorites were the chicken and foie gras wrap and the diminutive Scotch egg. I was told that some diners had expressed disappointment that there was no cucumber sandwich but the selection we were presented with was certainly not lacking in variety.
I had The Langham Blend tea which is a classic English breakfast blend, but a selection of teas is offered including a caffeine-free option.
Fresh-baked scones, classic and with raisins, are served separately in a basket with clotted cream, strawberry jam and rose jam. My daughter liked the strawberry jam while I preferred the floral-scented rose jam.
The sweet selection featured emotion entremet single-origin chocolate from Grenada and ginger, which was a rich chocolate covered cake.
To be honest I couldn't taste any ginger, but the chocolate was rich, dark, and smooth. My favorite sweet item was the carmelia 36-percent choux "facon" tatin, which was light, sweet, and creamy.