Police in major crackdown on tainted meat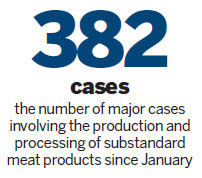 Police have arrested 904 suspects over the past three months who are accused of manufacturing and selling 20,000 metric tons of tainted and substandard meat products, the Ministry of Public Security said on Thursday.
Since January, police have dealt with 382 major cases involving the production and processing of water-injected meat, fake beef and lamb, rotten meat, and toxic meat products, the ministry said.
The ministry in January initiated action to combat crimes relating to food safety. Over the past three months, police have cracked down on 2,010 such cases, and arrested 3,576 suspects.
They also broke up 1,712 illegal factories, workshops, and dens, and destroyed 325 cross-regional criminal networks, the ministry said.
"Food-safety crimes, especially related to meat products, are directly related to people's health and safety, so we will resolutely crack down on such crimes," ministry media officer Zhang Hongqiang said on Thursday.
Zhang said that in the past three months, officials have received lots of public reports concerning meat products, including water-injected meat, fake beef and lamb, pork from sick and dead animals, and poisonous chicken claws.
"Due to the temptation of high profits and supervision loopholes by relevant administrative sectors, food safety crimes remain severe," he said. "We will pay attention to combating crimes involving meat products reported by the public."
Related readings:
Baby food recalled in mercury alert