Celebrating the season
It has been a cool spring but that has not deterred Beijing restaurants from celebrating the season with new menus.
The "ode to spring" tasting at Da Dong Peking Roast Duck Restaurant is always something this food reviewer looks forward to.
The courses are full of spring colors and flavors. Bamboo shoots are served on top of a big bowl of crushed ice, decorated with a sprig of white plum blossoms, while the "peach prawns" live up to their name and are a lovely shade, just like peach blossoms.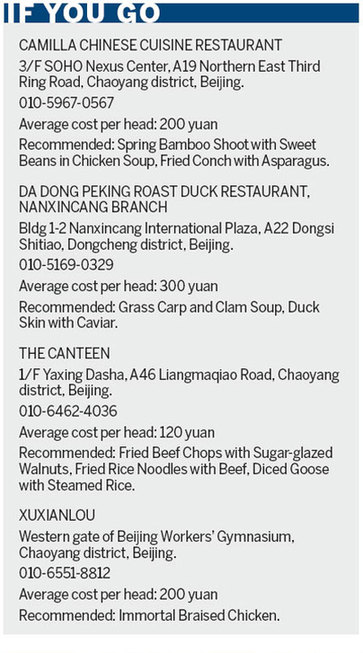 The starter is golden needle mushrooms, or enoki, which are literally planted in a lush patch of green pea sprouts, topped with caviar. The presentation looks like a miniature garden in spring. The platter comes with a pair of scissors, with which you can harvest the pea shoots.
Da Dong serves a soup of grass carp and clams in a clay pot, placed on a golden hotpot rack to keep warm. It is what we Chinese consider to be one of the freshest of soups, and is beautifully served.
Lion head pork meatballs with water chestnuts were among the most tender I have tasted and came served with soup, in a plastic bag, placed on hot cobblestones to keep them warm.
There was also the controversial new dish of crispy duck skin topped with caviar. Dong Zhenxiang, founder of Da Dong, thinks the rich taste of caviar is a wonderful match with the crunchy and crisp roast duck skin.
Compared to the luxury of Da Dong, The Canteen, a Chaozhou restaurant, offers delicious Cantonese fare that is simple but sensational. Two great green dishes for the season are fried bitter melon slices in soup with clams, and fried leeks with squid rolls.
Their fried beef chops with crisp walnuts, and fried rice noodles with beef were both tasty winners, but were topped by the diced goose with plain steamed rice, a simple but delicious staple priced at just 28 yuan ($5).
Camilla Chinese Cuisine Restaurant's new spring menu features spring greens and seafood.
Seasonal bamboo shoots are fried with beef slices, while Chinese fragrant toon tree shoots are served in an omelet, the natural sweetness of asparagus accentuated by conch slices.
Many of the restaurant's dishes reflect the Chinese belief in healthy eating. Honeysuckle is a flower often used in infusions to dispel excessive heat in spring. The restaurant puts it in batter and steams it. Fish ball soup is made with broom flower, which according to Chinese medicine strengthens the spleen.
In another dish, spring bamboo shoot is boiled with sweet beans in chicken soup, a dish that is considered to be a beauty tonic for women.
Finally, for those in need of some pampering, the dish to order is the Immortal's Chicken at Xuxianlou. You need to reserve the chicken at least a day in advance because the restaurant makes only 15 servings a day. The chicken is braised for 24 hours along with pig trotters, which makes it intensely aromatic, and a great comfort for both tongue and stomach.