Sinfully delicious, delightfully decadent at Temple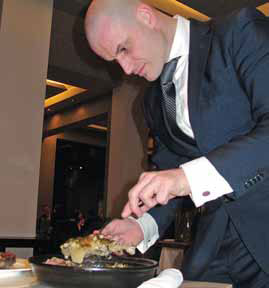 Temple's GM Ignace Lecleir serves up Jean Marc Boyer's savory cassoulet at the launch a special French menu. Photos by Mike Peters / China Daily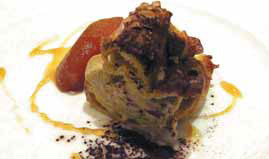 Puff pastry drizzled with caramel delivers a sweet finish.
A wedge of smoked eel and foie gras is as decadent as we want French food to be.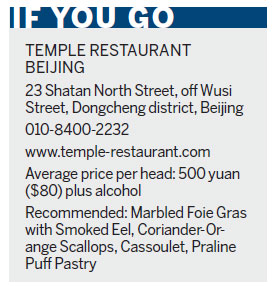 Imagine being presented a plate with a long, rectangular brick of fudge topped with paper-thin slices of sugar-glazed apple. But as you lift a first fork to your face, your nose tells you that it's not fudge at all. It's richer. Thicker. Earthier. More cloying. More inspiring.
Of course, those of us at this six-course tasting dinner know we're not being served fudge. It's smoked eel meshed with marbled foie gras, and as sinfully delicious as sin should be.
Temple Restaurant Beijing, a beautifully restored six-centuries-old shrine, almost begs for over-the-top dining experiences - and Michelin-starred chef Jean Marc Boyer has come from France to deliver one.
Boyer, guest chef from Le Puits du Tresor, spent a week in the restaurant's kitchen to launch a special menu for March. The dishes feature the flavors of his native Languedoc-Roussillon region, a Z-shaped area of southeast France snug against the Mediterranean, Andorra and Catalonian Spain.
Its politics is complicated, but its tradition of cuisines is simpler.
Locals like to point out that the region has three times the vineyard acreage of Bordeaux, and that winemaking there goes back centuries. There is evidence that grapevines have existed in the South of France since the Pliocene period, before the existence of Homo sapiens.
Easier to document is this statistic: One in every 10 bottles of wine produced in the 20th century were reported to come from grapes rooted in Languedoc-Roussillon.
The Mediterranean climate and expansive, arable land also produce fruits, vegetables and livestock that are Boyer's stock in trade. While the foie gras brick may sound like cartoon French chefery, its earthy richness has the odd philistine in the crowd sighing.
More matter of fact - and at least as delicious - is the cassoulet. It's a fragrant mlange (please don't call it stew) of French white beans, pork, duck and homemade sausage.
Temple's polished waitstaff presents it at tableside in a wide, shallow porcelain crock, lifting the lid with a flourish that sends a frisson of thyme, sage and garlic dancing in the air.
It's one of those happy moments when rustic meets fine dining without being out of place. (Boyer wowed a tasting dinner in New England last year by finessing a local dish, salt cod and potatoes, that's almost folkloric home cooking.)
"Quality, authenticity and rigor" are bywords Boyer wears like a badge. You don't need to invest in Boyer's course-by-course wine pairing to enjoy his dedication to detail - but if you're tempted, the cassoulet is a place to start.
Boyer matched this hearty fare with a 2008 Leon Barral Faugeres, a Grenache, Carignan, and Cinsault blend.
That bottle wins 90 points from wine god Robert Parker, who writes that it "delivers ripe but tart cherry backed up by rhubarb and suffused with crushed stone, salt, and fresh ginger for a mouthwatering, mouth-tingling, and invigorating performance, albeit with faint finishing warmth."
This is hardly lush or sumptuous, but neither is it meager.
More nuanced than the cassoulet is the scallop entre, savory with coriander and a kiss of Sichuan pepper but sweet with orange. Sided with braised endive and truffle, the resulting plate a visual art.
So is the dessert Boyer offers with this seasonal menu: puff pastry drizzled with praline and almond, snuggled by a gleaming slice of preserved pear.
When you fly in a chef from France, the results need to be pretty impressive indeed, and this month at Temple, you can count on it.
michaelpeters@chinadaily.com.cn
(China Daily 03/17/2013 page14)