Culinary mastery back to nature
There is no doubt at all that Da Dong (Dong Zhenxiang) is building up a name as a leader in Beijing's fast developing culinary inner circle. His latest branch at Wangfujing is yet another testament to the chef's ingenious use of ingredients, as well as his poetic mastery at presentation.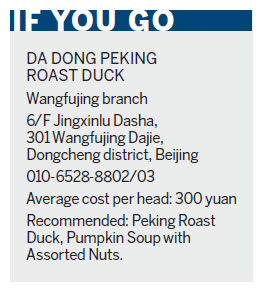 From starters to appetizers, Da Dong is veering toward natural and traditional ingredients. For example, besides his traditional foie gras starter, he has added two new dishes: a very traditional Beijing mustard root and an Iberian ham wrapped into the shape of a zongzi, the iconic pyramid rice dumpling.
Pampering diners is a Da Dong trademark and he never fails to make his diners feel special, like when they are treated to a large portion of king crab served on a steamed custard base seasoned with yellow rice wine that has been aged eight years.
Another signature ingredient - tiny tender green peas freshly podded - are now paired with exotic termite mushrooms, a rare delicacy from Yunnan.
Da Dong also surprises with his innovations. He puts crunchy, aromatic pine nuts, wild walnuts and peanuts and a small scoop of ice cream into pumpkin soup. Now why didn't anyone else think of that?
A very simple pot of starch noodles and fresh green turnip roll refreshes the palate after the meat courses, as does a steamer full of vegetarian buns, stuffed with leeks and glass noodles.
The latter is a surprise item on the menu, but we soon find out it is one of the best tasting in Beijing.
Desserts are a hawthorn fruit with macaroni, and persimmon jelly with a caramel topping - testimony that Da Dong is also breaking the barriers between Chinese and Western presentations. Like Da Dong once said, his dishes remain Chinese, but they borrow freely from other cuisine styles.
yejun@chinadaily.com.cn