Hidden dragons, crouching tigers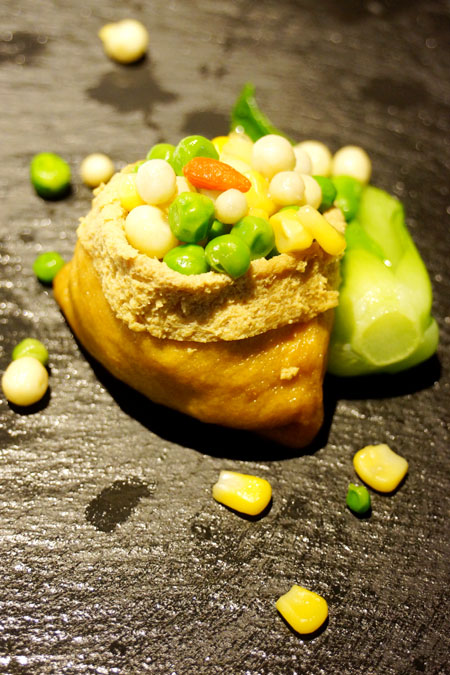 Zhao Bin's signature dishes include green peas and fox nuts in a bean curd pocket. [Photo by Ye Jun / China Daily]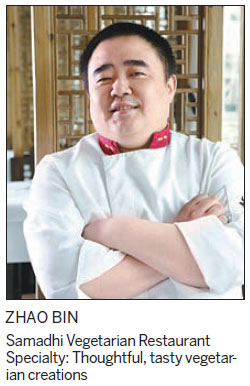 When Samadhi opened a few years ago, people marveled at the beautifully presented vegetarian dishes, but were skeptical if these would find a market in a mainly carnivorous town.
Vegetarian restaurants in Beijing were mostly in the mid to economical ranges, offering "mock meat" dishes created from soybean products or konjak.
In contrast, Samadhi celebrates natural ingredients with no pretenses that they are what they are, and it has attracted a faithful clientele with its tasty, healthy food and comfortable, classy decor.
There is now a long line waiting to get in and the tables are full every day. Chef Zhao Bin attributes the success of his restaurant to a general concern over health and food safety, and rising appreciation of ambience and good service, all of which are Samadhi's strong points.
Zhao Bin is getting well known in Beijing for his beautifully designed and tasty vegetarian dishes.
The chef has worked in major hotels, in both Chinese and Western kitchens. Last year, he found added fame when he appeared in the blockbuster CCTV documentary A Bite of China, showing off a bean curd creation gilded by a green pureed spinach, and topped with mushrooms.
Another signature dish is a soup with a bean curd skillfully shaped into a blooming chrysanthemum.
Traditionally, Chinese cuisine has many classic vegetarian dishes which had been all but forgotten. Fortunately, Zhao has revived many and added them to Samadhi's menu.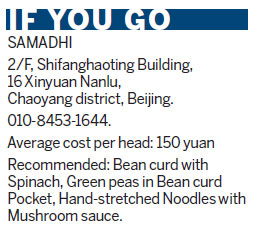 Recently, the restaurant cooperated with a magazine in Taiwan to present an "Eight Water Sprites" banquet featuring dishes made of water chestnut, fox nut, water caltrop, water asparagus, water shield, arrowhead, lotus and watercress.
These are mostly classic Chinese ingredients produced from aquatic plants, but to create something tasty and new from these demand experience and a thinking mind. This was where Zhao showed his mettle.
He hid discs of water chestnut in a covering of soft hawthorn jelly, creating contrast in both taste and texture. Water caltrop is simply boiled to retain its original taste while water asparagus is shredded and fried, and fox nuts are paired with fresh corn kernels.
Everything was lightly seasoned, to retain the original flavors.
Water shield is prepared as it is traditionally made, in soup. But the chef pairs it with bamboo fungus, a porous mushroom that again provides tactile contrast.
Arrowhead was deep-fried to make a very good crisp and also stewed for a soft, smooth texture. The last dish was the chef's signature dish of green peas and fox nuts wrapped in a bean curd pocket and the meal ended with a gratifying bowl of hand-stretched noodles with mushroom and black fungus sauce.
With chefs like Zhao Bin leading the way, Beijing's vegetarians can have much to look forward to.