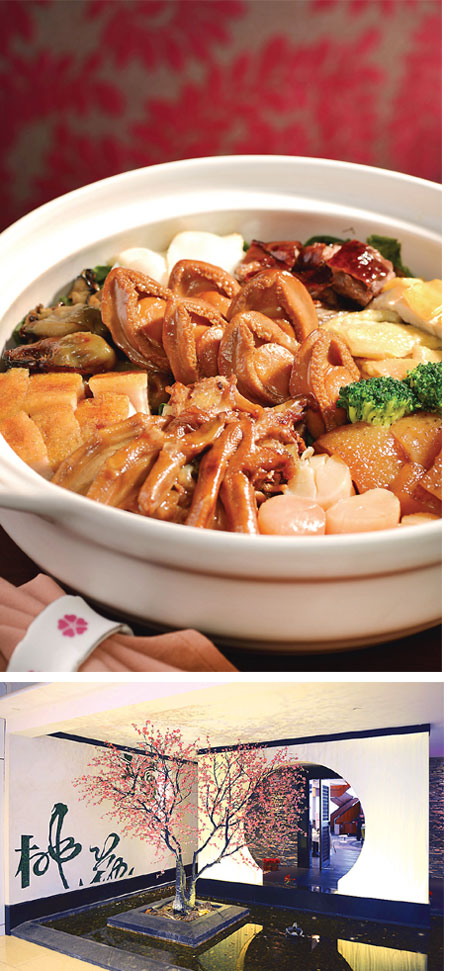 Tim's Kitchen's signature dish of Poon Choi (top) is ideal for festive family gatherings. Photos Provided to China Daily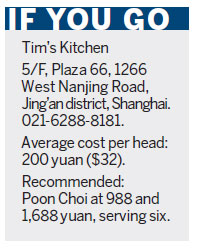 In Shanghai, a new favorite has surfaced as palates jaded by too much rich food opt for simple cuisine that comes right out of the villages. Li Xinzhu tells us more about eating out of a big basin.
Since the Lunar New Year is approaching, many restaurants in Shanghai have been dusting off their best recipes for traditional cuisine and offering them to diners about to congregate for the seasonal family gatherings. This year, not only the local Shanghainese restaurants are enjoying advance bookings, light-but-delicious Cantonese food is another popular choice. It just does not seem quite right to have Western food for the New Year's Eve reunions, even for the determinedly fashionable young generations.
Tim's Kitchen, located on the fifth floor of Plaza 66, which is very much populated by luxury brands, is offering a taste of a very classic Cantonese cuisine form Hong Kong. This is Poon Choi, or pencai, which is literally food served in a small basin.
Poon Choi originated from the walled villages of Hong Kong's New Territories and reputedly dates back to the Ming Dynasty (1368-1644). It is served only on special occasions, such as festive days or family days marking births, marriages or new homes.
Every village had its own special Poon Choi, with special additions that may mark it as theirs alone.
Tim's Kitchen uses a recipe that is definitely more than luxurious, including the best cuts of pork, chicken, duck, abalone, ginseng, prawn, crab and dried Chinese mushrooms. Fish balls are placed on top, while at the base are ingredients that can withstand longer cooking, such as squid, pork crackling, dried bean curd sticks and chunks of radish.
The ingredients are placed in the basin layer by layer, all based on culinary wisdom that tells the chef which ingredients need longer cooking time and would be able to absorb the essence of the ingredients on top as the whole basin slowly simmers.
For example, the pork is placed in the middle to braise and to absorb the best flavors from ingredients both on top and at the bottom, and often root vegetables are placed right at the bottom with tofu products as these will soak up all the juices.
Poon Choi must be enjoyed layer by layer, and not be mixed up, from lightly flavored to heavily seasoned and back again from meat to vegetables.
There are two types of Poon Choi available at Tim's until Feb 24, and the prices mark the difference in ingredients used.
In addition, Tim's Kitchen also offers some traditional but now rarely seen Cantonese dishes.
The restaurant's founder, Yau-Tim Lai, was apprentice to a legendary master chef in Canton. He opened the first Tim's Kitchen in Hong Kong in 2000 and then in Macao in 2007.
Both restaurants have been given Michelin Stars ever since the Guide started its ratings in 2009.
Some signature dishes include crystal king prawn, a beautiful dish that goes perfectly with Jinhua ham, and the braised whole fresh crab claw with winter melon.
Contact the writer at lixinzhu@chinadaily.com.cn.