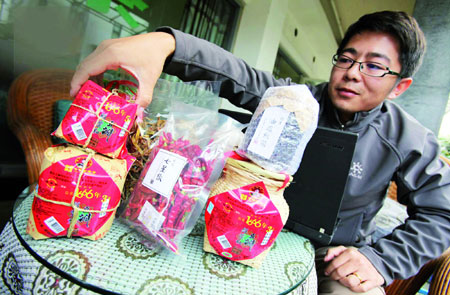 Ba Wenhan shows off the ingredients he bought in villages of Sichuan.
Ba Wenhan grew up on double-cooked pork prepared by his grandmother in his home city of Pingliang in Northwest China's Gansu province.
He also frequently followed his father up the mountains nearby.
These unassuming experiences contributed to Ba's interest in seeking safe and tasty food, and ingredients in the mountainous Sichuan province in Southwest China.
Ba, 29, now owns a store in China's e-commerce marketplace Taobao, selling handmade noodles, dried bamboo shoots and day lily, beef jerky, bacon, chili, pricky ash and bean paste.
All are from individual farmers and produced in time-honored methods without the addition of coloring or other additives.
Sales have been brisk because buyers appreciate the quality of the products. Ba visited more than 30 places in Sichuan in about two years, many of which are mountainous regions, to source for the products.
But Ba did not go into the food business immediately after he graduated.
After graduating from Lanzhou Jiaotong University in 2007, Ba worked in a logistics company in Shenzhen, South China's Guangdong province, for about four years.
Although well paid, Ba did not have work-life balance. A foodie who loves to travel, he became frustrated with the routine.
But what made him decide to quit his job was an incident when he was cooking a bowl of noodles. The noodles remained hard even after a couple of hours of boiling.
"The incident prompted me to decide to switch to a job related to food safety," he says.
After resigning in February 2011, Ba moved to Chengdu in Sichuan province because he was familiar with the town and he loved Sichuan cuisine.
"When I was 4, my grandma took me to Sichuan to visit her younger sister. When I was an undergraduate, I visited Sichuan many times because my then girlfriend, who is now my wife, was attending Sichuan University. That's how I grew to like Sichuan," Ba explains.
After the couple settled down in Chengdu, Ba started researching the list of time-honored Sichuan delicacies and ingredients.
His first trip was to the Wawu Mountain in Hongya county, following a recommendation by a friend who had eaten the dried bamboo shoots there.