The key to tea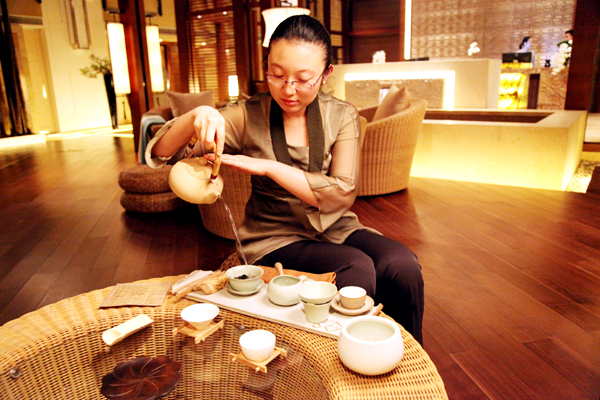 Zhou Yutong says the best tea means finding the blend that makes you happiest. [Photo by Fan Zhen / China Daily]
Zhou Yutong may not be familiar with every tea produced in China, but she comes pretty close. This young tea sommelier brews a pot for Sun Ye.
You shouldn't ask her which is the best tea in town. Zhou Yutong believes the best tea for you is the tea you like best.
The 24-year-old Zhou calls herself a "tea-maker" while others prefer to address her as the "tea-master". At the Four Seasons Hotel in Beijing, they call her their tea sommelier.
Zhou believes there should be no favorites when it comes to drinking tea and the young lady from Heilongjiang province adds there is only the right choice at the right time - in drinks as in life.
"There is only the tea that suits you and is good for you. The key is this, look for the tea that makes you happy," she says.
For the moment, she is happy where she is, in charge of the Tea Garden at the newly opened Four Seasons Beijing. This is the fourth place she has managed, and the softly lit wooden setting with its tea menus carved on wooden plaques reflects her philosophy of "natural simplicity".
Her expertise with tea is so impressive that Zhou's boss Alexander Lahmer, the director of food and beverage at the Four Seasons, has complete faith and trusts the Tea Garden to her.
Knowledge did not come easily for Zhou. In her seven-year quest, real insight into tea did not arrive until 2011.
When she was younger, tea was something that was unattainable.