Festive discovery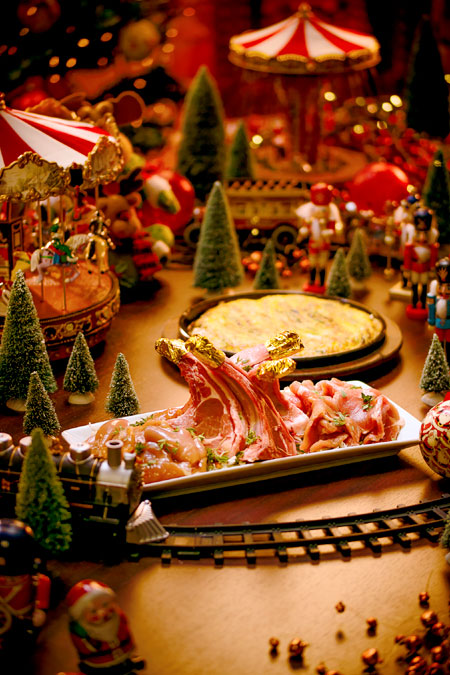 First Korean Restaurant serves up a couple of festive set menus for barbecue. Diners can cook their own meat on the round smokeless grill in the center of each table. Photos provided to China Daily
Discovery Bay in Hong Kong used to be far from the maddening Hong Kong crowds. Not any more. There are now bridges linking Lantau island to Kowloon and the residential enclave is a surprising destination for those who want a finer slice of life, Donna Mah tells us.
Related: Best tasting charcoal in Beijing
It is not the first place you think of when you are planning to go out for dinner, especially if you don't live in the area, but Discovery Bay has a surprising mix of restaurants that are filled with festive cheer for the upcoming holidays. With large outdoor dining spaces overlooking the sea and a beach nearby, a meal here will feel more like a getaway. In the evenings, you can even watch the fireworks display that lights up the sky above Disneyland just around the corner.
For those who have never been, Discovery Bay is primarily a residential development located on the northeastern coast of Lantau island, Hong Kong.
To get there, you can take a 25-minute ferry from Central or a 20-minute bus ride from Tung Chung. Populated mainly by both expat and local families, the eclectic demographic mix has invited an equally interesting set of eateries here.
Most are concentrated around DB Plaza - D'Deck - and you'll find restaurants that serve Thai, Korean, Japanese, Middle-Eastern, Indian, Mexican, Spanish, Italian and French food.
We cannot talk about them all, but here are a few you may want to try next time you venture out to DB - perhaps on your way to the airport after checking in at Central, or for that special excursion come Christmas or New Year.
For buffet fans, Sopranos serves a fantastic spread including salads, pizzas, Thai chicken curry with rice, grilled sausages, potatoes au gratin, fresh fruit, and dessert all for only HK$128 ($16.50) on Tuesday nights only.
For more food reviews, please click here.