Temple of Italian cuisine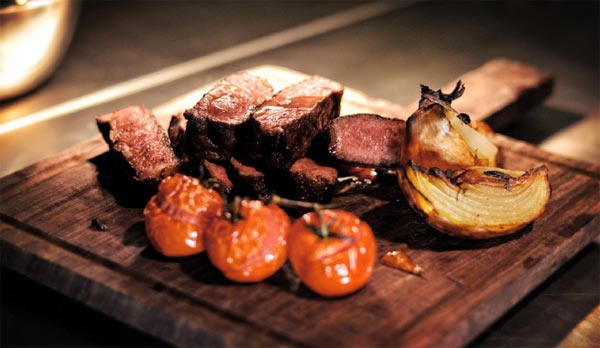 Capo at Rockbund in Shanghai serves diners grain-fed full-blooded Wagyu beef. Photos provided to China Daily
Shanghai has many Italian restaurants, but few pay homage to the country's cuisine like Capo at Shanghai's Rockbund. Li Xinzhu has an epicurean experience bordering on the religious.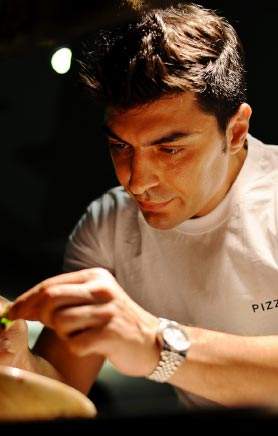 Enzo Carbone, Capo's executive chef and partner, will cook for diners at the Chef's Table.
Diners are greeted with a giant mural of Leonardo Da Vinci's Last Supper at the entrance. But look carefully. The background of the painting has been changed and if you look around again, you may realize it's the main dining room of Capo, the Rockbund's latest Italian addition.
Located on the fifth floor, the entire space is designed by Lyndon Neri and Rosanna Hu of renowned design practice Neri&Hu Design and Research Office, evoking a "basilica" feel created with dimmed lights, brick walls, quirky classical art and vintage wood floors.
It is a fitting renaissance in the midst of the Rockbund, birthplace of modern Shanghai, where 11 historic buildings have been restored and turned into a fashionable landmark with luxury retailers and fine dining establishments.
At the heart of Capo is the twin wood-and-charcoal-fired pizza ovens that were custom-designed and imported from Italy and hand-built on the wall by an artisan from Naples.
One oven is used to grill meat and seafood dishes over high-quality charcoal imported from Japan and the other is exclusively for baking the Neopolitano pizza over apple wood.
The temperature of the oven is kept high so a pizza can be done within 80 seconds.
About 13 kinds of pizza with tomato or tomato-free bases are prepared with recipes handed down for generations, but with the freshest ingredients imported from Italy.
In addition, diners at Capo all get to watch how their food is being prepared, and maybe take home a culinary tip or two.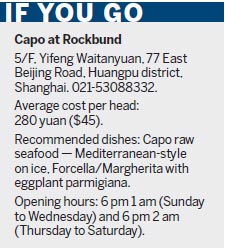 A central dining area and three private dining rooms equipped with custom-made furniture all sit among cooking stations separated by huge one-way mirrors. But the most desired space in the restaurant would be the Chef's Table, which seats a maximum of eight.
All dishes prepared here are off the restaurant's menu and will be served by Enzo Carbone, Capo's executive chef and partner.
"You eat what I cook," he says. "Without menu."
The whole idea behind the Chef's Table is to create a platform for more intimate interaction between the chef and his customers.
Apart from the intricate concept and design at Capo, it is attention to detail in preparation and location of the finest, freshest meat and seafood that make it a truly desirable dining destination.
Prime cuts, grills, pastas and Neapolitan pizzas are all signature dishes, with ingredients carefully picked and imported from all over the world, especially the herbs from Italy.
Capo is the only restaurant in Shanghai to offer 600-day grain-fed full-blooded Wagyu beef with a marble score of 9+, out of an international grading system that rates fine meats from 1 to the best at 12.
In case you are worrying about the current trend of serving stylish but small portions, the chef says there are always large portions on order. And the best little detail about Capo? Prices include service charge. Buon Appetito!
Contact the writer at lixinzhu@chinadaily.com.cn.