The Tao of tea
Sebastian Beckwith sips his tea appreciatively while listening to the strains of the flute playing a popular love song. His cup is replenished by a smiling, soft-footed waiter in traditional Chinese loose cotton trousers and a high-necked shirt with long sleeves.
The American tea merchant travels all over the globe looking for teas he can buy and sell. In Hong Kong, his search has led him to LokCha, a place with character, located in Hong Kong Park, next to the Museum of Tea Ware.
Started in 1991 to sell fine tea blends to connoisseurs directly from farmers on the Chinese mainland, LokCha has grown from a small tea retail shop into a center promoting Chinese tea and culture under its founder Ip Wing-chi. In addition to selling tea and tea ware, it now holds tea appreciation classes and on weekends, Cantonese and Mandarin opera to accompany the flavorful tea served.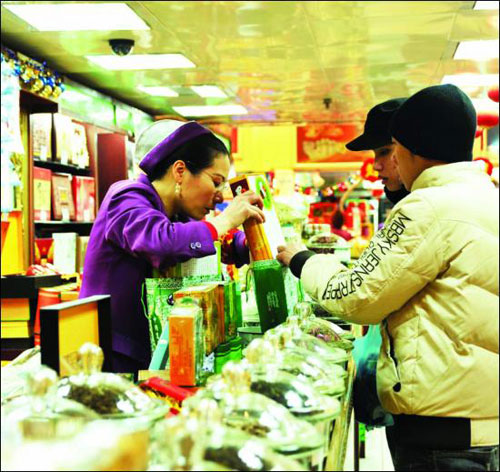 Customers buying tea leaves at a supermarket in Beijing. Green tea still dominates China although the domestic consumption of red tea is growing quickly. [Photo/Agencies]
"Tea is a kind of art," says the 61-year-old Ip, a Fine Arts graduate who plays host at the soirees, introducing musicians and keeping up a flow of conversation. "It is culture, lifestyle and philosophy as well."
Far from Hong Kong Park, in Wenzhou city, Zhejiang province, LokCha has soulmates.
In Tong Jia Qiao Road and Xue Yuan Road, there are two tea shops offering customers a taste of fine tea and culture. Only, the culture they promote is Indian.
The walls in Premier's Tea Houses in Wenzhou display posters and photographs of famed tea gardens and landmarks in India, such as the Victoria Memorial in Kolkata. Wood and stone elephants carved in the traditional Indian style greet customers with soft classical Indian music playing in the background.
"The Premier's Tea Houses are the first (of their kind) in Wenzhou," says Eric Yee, Hong Kong resident director of the Indian tea company.
Premier's Tea exports to countries like Canada, Britain, Germany, France, Japan and South Korea. H.A. Shah, its founder and managing director, says the brand has been so successful that when Luxasia Singapore, distributor for "Jennifer Lopez" and "Bvlgari" perfumes, launched a new product in 2003, it selected Premier's teas as give-away gifts during the event.
"Our tea houses not only promote tea, they promote the Indian culture," says Yee. "We opened the Wenzhou tea houses this year and a Shanghai store will open soon. We also plan to develop the tea shop concept in Hangzhou, Beijing, Shenzhen and Guangzhou. Our aim is to build up the Premier's brand in China and open shops in first-tier Chinese cities in three to four years."
In Shanghai, 30-year-old Charles Luo is making plans for his Shanghai NauTical International Trading, a two-year-old company that sells tea produced by Euro Asia Corporation, an upcoming company from Sri Lanka, the largest tea exporter in Asia and the second largest in the world.
After establishing Euro Asia's brands in China, Luo says he would like to expand to Australia.
The shape of things is quite clear. Despite conceding its position as the largest tea exporter in the world, China is still a major force. Indeed, its role has widened now with other dominant tea producing countries in Asia seeking cooperation with the Middle Kingdom.
Wu Xiduan, a prominent tea merchant and former general secretary of China Tea Marketing Association, highlights the new trend in the tea industry in Asia — joint ventures or collaborations with tea producers seeking to do business with China and in China.
Asian tea's traditional markets in the Middle East have been hit by the political flux there and those in Europe and the US are struggling with a sluggish economy.