Battling underage drinking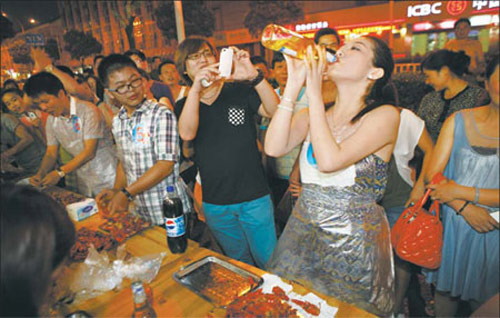 A young woman drinking beer at a party in Ningbo, Zhejiang province. Anheuser-Busch InBev, together with Southern Weekly, China Youth Development Foundation and China Alcoholic Drinks Association Beer Branch, jointly launched the "Hi, Beer - Family Talk About Underage Drinking" in Beijing this month. It is the first time a public program is being carried out to prevent underage drinking in China. Zhang Peijian / for China Daily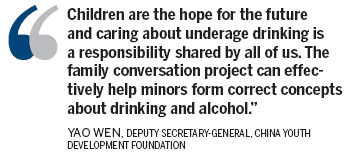 Brewer AB InBev to promote more responsible approach to booze
When the world's leading brewer Anheuser-Busch InBev launched the "Hi, Beer - Family Talk About Underage Drinking" in Beijing, it was the first time a public forum was held to prevent underage drinking in China.
A survey shows that in other countries a vast majority of parents have talked to their children about the prevention of underage drinking, especially in the United States, where such conversations occur in as many as 87 percent of households.
In China, although more than 73 percent of parents know the importance of preventing underage drinking, only 36 percent of them have discussed the topic with their children. Most parents find it difficult talking about drinking with minors.
In consequence, AB InBev, together with Southern Weekly, China Youth Development Foundation and China Alcoholic Drinks Association Beer Branch, jointly launched the event and unveiled the Parental Guidance Manual.
This was created to help parents talk to their children about alcohol problems in a more skilled manner. It also provides constructive suggestions and solutions to make family conversations on the subject more in-depth and productive.
"AB InBev is committed to encouraging the responsible enjoyment of our products and promotes the concept of responsible consumption. Underage drinking and drunken driving are the challenge we are facing," said Michel Doukeris, zone president for Asia-Pacific of Anheuser-Busch InBev.
This year, AB InBev China has drawn on the best practices from the US and Canada for the first launch of its responsible drinking project in China, focusing on the prevention of underage drinking. "We hope that this manual will become the principal consultant for parents and children's communication about drinking problems," Doukeris said.
"Children are the hope for the future and caring about underage drinking is a responsibility shared by all of us. The family conversation project can effectively help minors form correct concepts about drinking and alcohol. We expect more enterprises with a sense of social responsibility will care about children growing up," said Yao Wen, deputy secretary-general of China Youth Development Foundation.
Family talks featuring understanding and guidance are the most effective communication. It is the responsibility of parents to teach their children to manage their relations with alcohol in a responsible manner and it is also an important way for children to learn self-control, said EQ education expert Zhang Yiyun.
After the launch ceremony on Sept 21, Doukeris, together with other AB InBev officials, including Frank Wang, vice-president of legal and corporate affairs in Asia-Pacific, and John Hsu, director of its North Division, took some AB InBev's employees to the streets of Beijing and handed out the Parental Guidance Manual to dealers, clients and shoppers to deeply promote family conversations and responsible drinking among people in Beijing.
On the same day, more than 2,000 Anheuser-Busch InBev employees in nearly 50 cities in China were also promoting family talks themselves through market research.
In addition, 116,000 employees of AB InBev in 23 countries all over the world joined hands with their families, experts, local governments, communities and organizations to conduct this year's "Global Be(er) Responsible Day".
Over the past few years, AB InBev has been fighting for a "better world", being a strong advocate and industry pioneer for responsible drinking. The "Hi, Beer - Family Talk About Underage Drinking" is another innovative initiative following "Do not Drink and Drive", which AB InBev China is holding to promote responsible drinking.
AB InBev has been steadily moving toward the commitment since it announced a three-year goal for global responsible drinking last year.
The company has encouraged 30 million adult customers in the worldwide family talk projects to prevent underage drinking, which have promoted designated driving and never drinking and driving to as many as 270 million people. AB InBev has trained almost 160,000 bartenders, waiters, grocery store clerks, other servers and sellers of alcohol in responsible beverage sales.
Anheuser-Busch InBev is a publicly traded company based in Leuven, Belgium. It is the leading global brewer and one of the world's top five consumer products companies. It has around 200 brands, which include world famous Budweiser, Stella Artois and Beck's beers. AB InBev has approximately 116,000 employees based in operations in 23 countries worldwide. Last year, the company realized $39 billion in sales revenue.
Liwoke@chinadaily.com.cn