New age vegetarians
Both chefs and diners are waking up to the awareness that going meatless does not necessarily translate to having lackluster meals. Chen Xiaogen / for China Daily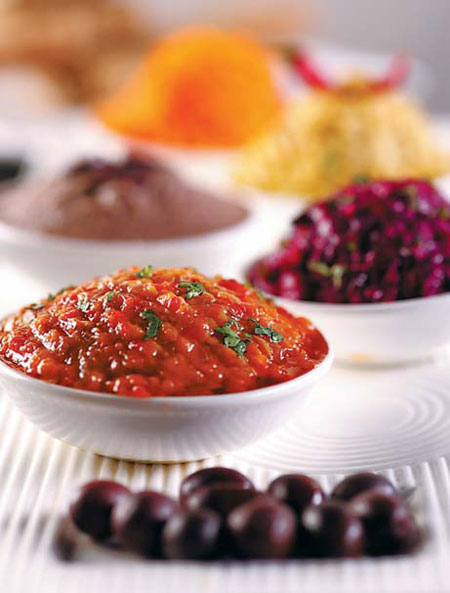 Both chefs and diners are waking up to the awareness that going meatless does not necessarily translate to having lackluster meals. Chen Xiaogen / for China Daily
A new eating trend is popping up on the doorstep of the Peking duck, and it has nothing to do with meat, but plenty to do with a generation of young, rich, health-conscious consumers. Sarah Marsh and Thomas Hale restaurant-hop in Beijing to find out more.
An array of colorful and carefully put together dishes is brought to the table. All of the traditional Beijing favorites are there, including a round tray filled with pancakes and strips of cucumber served with a hoisin dipping sauce. However, instead of Peking duck completing the dish, diners are served something quite different. They are instead presented with beancurd skin, milk curds and toon tree shoots. It might sound unusual but vegetarian food like this is taking over China's capital. A growing number of restaurant-goers now opt for vegetarian dishes over meat.
The dish imitating Beijing's world-renowned Peking duck is served at the Gingko Tree in Sanlitun, a restaurant that opened on Oct 5, 2011.
According to its owner, 32-year-old Wang Rui, when it first opened, the restaurant welcomed 20 visitors daily, but this number has now increased 500 percent to approximately 100.
This is no one-off. Wang explains that more non-meat eateries are opening up all the time.
"The trend started about seven years ago as the Chinese gradually became more aware of the health benefits. Lots of new vegetarian restaurants sprung up between 2002 and 2006," Wang says.
About 15 years ago there were one or two vegetarian cafes but now there are nearly 100 and competition is fierce.
Many vegetarian restaurants promote organic food, a growing phenomenon in China. The Seattle Times reported that overall Chinese organic exports have rocketed from $300,000 in 1995 to about $500 million in 2008. Both vegetarianism and organic foods are associated with healthy eating in China.