From rags to riches for China's king of pangxie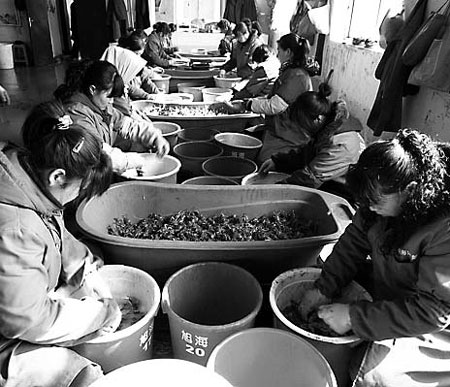 Workers processing crabs for export at a factory in Panjin, in Northeast China's Liaoning province. In 2011, the city government registered all local crabs under the trademark "Panjin Crab". There are more than 6,000 crab brokers in the 24-hour Hujia market in Panjin. They travel around the country or even abroad to sell the crustaceans. Provided to China Daily
A crab (pangxie in Mandarin) sheds its shell about 30 times during its life from a larva to an adult. Every time it becomes bigger and stronger. It's a fitting metaphor for the career of Li Xiaodong, known as the "crab king" of Panjin, in Liaoning province.
The 47-year-old rose from being an ordinary child in a rural community to becoming a leader of local farmers, gaining riches and respect along the way. Having been a secondary technical school graduate, he now possesses a doctorate.
Li was born in the small village of Yingkou, a coastal city in Liaoning, in 1965. His parents were peasants. Because his family was poor he chose to study at Dalian Institute of Aquaculture, a technical secondary school, instead of a high school. "I vowed to learn some skills so I could raise a family," said Li.
After graduating, Li was assigned to a farm in Dawa county, Panjin, as a technician. In 1989, he was promoted to production head in the local aquatic products bureau. However, Li didn't like the "iron bowl" lifestyle admired by many people that it promised. "I found that I preferred to engage in farming techniques with farmers," he said.
After a year of mind-numbing bureaucracy, Li applied to work in a local crab development station. It was the first time he was exposed to crab breeding, a relatively new and unscientific industry at the time. As head of the station, Li became familiar with crab ponds and devoted himself to learning about the life cycle of the crustaceans and how to control it better.
His persistence and interest paid off. His book - Technical Operation of Crab Artificial Breeding - is still widely used by farmers in coastal areas of the country.
What makes him a real "crab king" is the technique he developed for the culture of crabs in paddy fields.
"As you know, the number of freshwater ponds that can be used to raise crabs is limited, so I was always wondering how to make more people benefit from crab cultivation," said Li.
The idea for raising crabs in paddy fields came to him in 1990. Fortuitously he had befriended Li Baoqi, a local peasant who was also keen to experiment to find a way to raise his standard of living.
The results surprised them. "We put two kilograms of juvenile crabs in four mu (0.27 hectares) of paddy land. It turned into 600 kilograms per mu, which is twice what you get from a reed field. I earned more than 10,000 yuan ($1,575) that year," said Li Baoqi.
Cheng Yongxu, a professor at Shanghai Ocean University, said: "Raising crabs in paddy fields is the best model we have discovered so far. It combines planting with breeding and produces an eco-win-win situation. Li Xiaodong was the first scientist to study the technology in our country. His research contributed a lot to the promotion of the model and increased farmers' incomes."
The model has since been promoted throughout coastal Liaoning and as far as southern China. "He is our guide on the way to wealth," added Cheng.
There are more than 30,000 farmers like Li Baoqi who have benefited from Li's study.
Due to his great contribution to the area's economy, Li won the ninth China Youth Science and Technology Award in 2006. "I'm really happy and proud that my study can help so many peasants like my parents," said Li.
Although Li is an expert in crab cultivation, he still constantly comes across new technical problems and challenges. It was that experience that drove him to study until he was awarded a doctor's degree.
Now he is a supervisor of masters at Dalian Ocean University. "I hope I can influence more talented people to get involved in this area and improve the lives of peasants," he confided.
The first student influenced by him was Li Bingyu, his daughter. The 24-year-old is doing her doctorate in microbiology in the United States. "He always works with marine animals. His efforts influenced me and I decided to follow in his footsteps," she said.
"He is too busy to concern himself with home affairs. You can find him in the laboratory, paddy field or in his office, but never at home," said his wife, Dou Yaqiu. "However, I know he cannot stop doing what he really loves. And I'm his long-lasting backup."
liuce@chinadaily.com.cn