Garden night market for culinary crusaders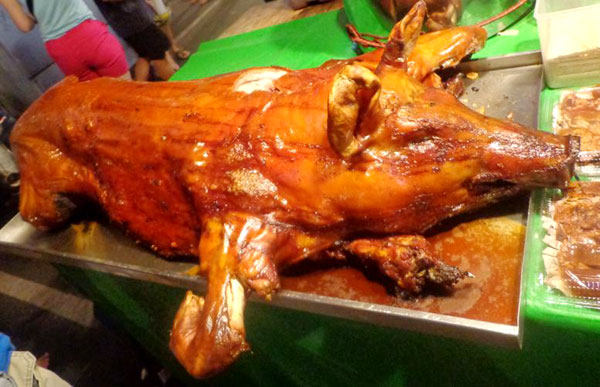 Garden night market is a carnival of food, shopping and entertainment. Paul Cheyne / For China Daily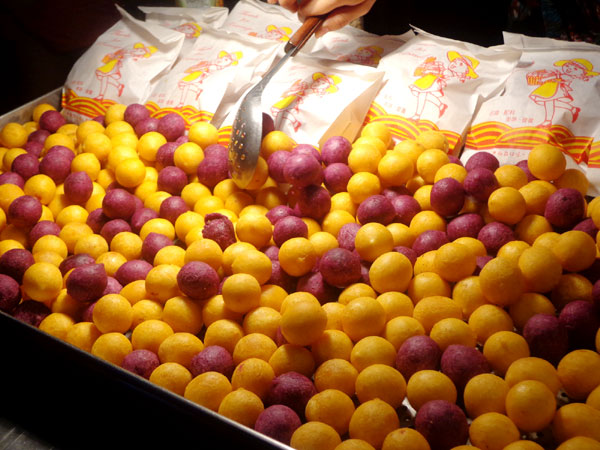 Sweet potatos. Paul Cheyne / For China Daily
We've all heard the saying, 'the way to a man's heart is through his stomach'. Well, for Taiwan - the way to Taiwan's heart is through its night markets.
It goes without saying then that a trip to Taiwan would not be complete without a visit (or pilgrimage as it is for some) to at least one of their many legendary night markets.
In Taipei alone, there are over 13 renowned night markets to choose from. They are the perfect place to put your tongue right on Taiwan's pulse.
Apart from the obvious culinary draw card, a visit to these night markets gives you a real feel for the local culture.
Each market has its own unique feel and characteristics and, if time permits, I encourage you to visit as many as you can.
Most, however, are located in Taipei city itself and attract enormous crowds, so a trip across the Tamsui River into New Taipei is a nice change of pace.
Although perhaps not as well-known or as large as its neighbors, the Garden night market in Taishan district has plenty to offer those who wish to wander off the beaten track but still don't want to miss out on all the fun.
This night market only opened earlier this year and is probably the biggest in New Taipei city. Its convenient location near the back gate of Fu Jen University (known as Fuda) - only a 15 minute slow walk from Fuda subway station - makes it easily accessible and well worth a visit.
Open from 5 pm to midnight every Tuesday, Friday, Saturday and Sunday, this is one of the most extensive and well laid out night markets in town. Instead of the usual straight "main drag" layout of many night markets, the Garden night market consists of seven passageways (grouped into three main areas: food, shopping and entertainment), which makes it easy to explore and enjoy.
With roughly 250 vendors offering a range of cuisines, including local ones and those from Chinese mainland, Japan and Korea, there will definitely be something to satisfy your evening craving crusade. You can also try Mexican, Indian or even a wood fire pizza if your palate still needs encouraging.
As I mentioned, in addition to food stalls, this market also has a carnival-like atmosphere - with dodgem cars, a local variation of bingo and numerous activity stalls and arcade games on offer to suit all ages.
Besides the typical kitsch booths which may come to mind, here you can test your skills at the real-life Angry Birds stand or even experience an earthquake simulation to shake things up.
Alternatively, if delicious food and entertainment aren't what you're after, then you might like to browse the abundant selection of shops which offer clothes, shoes, handbags, glasses, mobile and other accessories, make-up, and one particularly appealing lamp and incense stall among other things.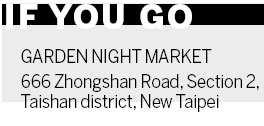 Prices are also quite reasonable (as a large portion of the clientele are students from Fu Jen University) which means you'll have a good chance to try much of what's on offer. Make sure to leave room for the roast pork (NT$200 per pack, $6.80) though, which is tremendously succulent and has one of crispiest cracklings I have ever tasted.