Hunan charmer in Shanghai
This is a charming little restaurant sitting quietly on Wuyuan Road of Xuhui district, so laid-back that pedestrians may walk right past it without any notice.
Looking in from the outside, it's hard to tell what it is - until you spot the name that is carved onto the iron wall by the main entrance.
Spicy Moment is a Hunan restaurant and bar.
It certainly exudes style at first sight. With about 50 seats inside, the restaurant has successfully bridged natural wood furniture with modern objets d'art.
All tables are made of wood stained the original color, but the seats and sofas are upholstered in gold patent leather. Pillows in light green and gray color are hung against the wall above sofas for the comfort of diners.
A decor wall in the center of the restaurant is another eye-catching object. Instead of the usual wood, this is a wall made of abacuses.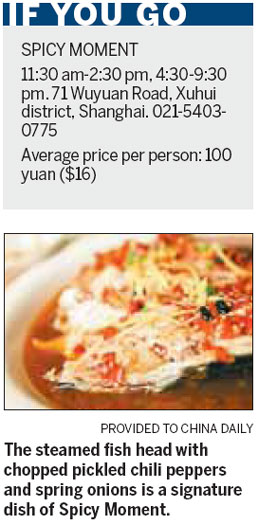 The space is designed by Dant Deng, the owner, in his 40s, and he has drawn inspiration from his years of experience in the advertising and design industry. For him, the initial objective was to open a restaurant for his friends to gather.
Unlike most Hunan dishes that are heavy with oil spices, the food offered at Spicy Moment is more inspired by what Deng used to eat at home, the flavors he is used to.
"Not all Hunan people eat oily and spicy," Deng says.
Deng also shops at the supermarkets for his ingredients because he still has issues with restaurant suppliers, and says he prefers this channel because it is more reliable, even if it costs more.
Deng is equally fastidious when it comes to food preparation.
"I would rather spend more time getting the best flavor out of the ingredients than take a shortcut and add extra spices to season the food," he says.
For this reason, diners at Spicy Moment must be prepared to wait. Food may be slow in coming out of the kitchen especially during the peak hours. But for some, the wait is worth every moment.
Hand-torn Cabbage, one of the best known of Hunan dishes, is extremely popular. In other restaurants, the dish may take just five minutes to prepare, but here, it may take a bit longer as the chef takes time to make sure the best flavors are presented on the plate
Deng says he is not interested in opening a restaurant where people just rush in and out. He wants diners to relax, sit and talk or make new friends as they enjoy his food.
Another slow-food specialty from the restaurant is the steamed fish head with chopped pickled chili peppers and spring onions. This signature dish has enjoyed exceptionally high ratings on dianping.com, an online gourmet guide.
Deng plans to open up a VIP room at the back of his restaurant soon, where patrons can enjoy a limited degustation menu, Hunan-style.