Traditional Italian pizza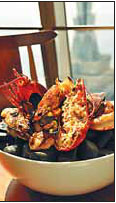 Saints International Restaurant in Hongta Hotel is presenting a traditional Italian-style pizza lunch, where patrons can choose from rich ingredients such as pepperoni, salami, mushroom, onion, olives, capers, smoked salmon, ham, anchovies, jalapeno, chicken breast roast, garlic roast, bell pepper chili, pineapple and banana. The hot dish options consist of Italian cheese rice ball, potato mushroom cake and grilled mixed vegetables.
021-5050-4567 Ext 6312.