Cucumber and Israeli couscous salad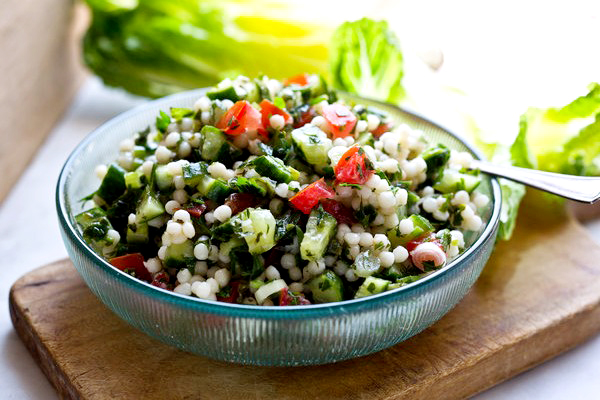 Cucumber and Israeli couscous salad [Photo/Agencies]
I love this tabbouleh-like mixture because of all the herbs and refreshing flavors, and also because of the nice contrast in textures. Make sure that you cook the couscous until the spheres are tender but not gummy. I have seen package directions that call for too little water; make sure you cook them in twice their volume of water.
1/4 cup extra virgin olive oil
1 cup Israeli couscous
6 to 8 tablespoons fresh lemon juice, to taste
3 cups chopped fresh flat-leaf parsley (from 3 large bunches)
1/4 cup chopped fresh mint
1/2 pound ripe tomatoes, very finely chopped
3/4 pound cucumbers (1 European or 4 Persian), seeded if using regular cucumbers, cut in fine dice
1 bunch scallions, finely chopped, or 1/4 cup chopped chives
Salt to taste
1 romaine lettuce heart, leaves separated, washed and dried
1. Heat one tablespoon of the olive oil over medium-high heat in a medium saucepan and add the couscous. Stir until the couscous begins to color and smell toasty, 4 to 5 minutes. Add 2 cups water and salt to taste and bring to a boil. Reduce the heat, cover and simmer 15 minutes, or until the couscous is tender. Drain if any liquid remains in the pan.
2. Transfer the couscous to a large bowl and toss with the lemon juice, parsley, mint, tomatoes, cucumbers, scallions or chives and salt to taste. Add the olive oil, toss together, taste and adjust seasonings. Serve with lettuce leaves.
Yield: 6 to 8 servings.
Advance preparation: This will keep for a day in the refrigerator, though the bright green color will fade because of the lemon juice.
Nutritional information per serving (6 servings): 231 calories; 10 grams fat; 1 gram saturated fat; 1 gram polyunsaturated fat; 7 grams monounsaturated fat; 0 milligrams cholesterol; 31 grams carbohydrates; 5 grams dietary fiber; 32 milligrams sodium (does not include salt to taste); 6 grams protein
Nutritional information per serving (8 servings): 173 calories; 7 grams fat; 1 gram saturated fat; 1 gram polyunsaturated fat; 5 grams monounsaturated fat; 0 milligrams cholesterol; 23 grams carbohydrates; 4 grams dietary fiber; 24 milligrams sodium (does not include salt to taste); 4 grams protein
 The New York Times