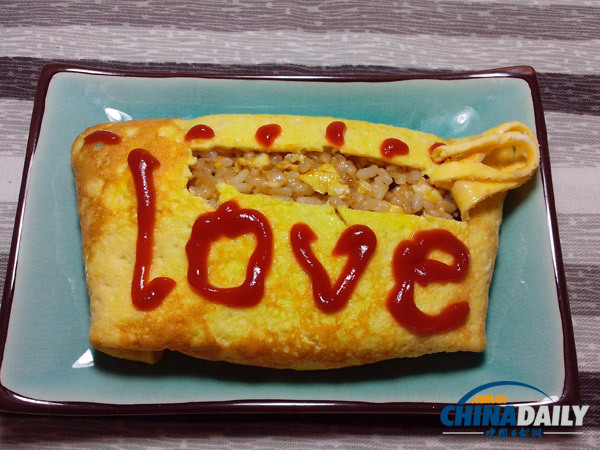 'Omurice'
An interesting combination of an omelet and fried rice.
Ingredients:

• One small egg •
• A small bowl of rice
• One piece of egg-size bacon
• Chopped green onion
•  Ketchup
• salt
•  refined white sugar
•  seasoning wine
• Vinegar
•  soy sauce
Directions
1. Break the egg in the bowl and add two teaspoons of seasoning wine, a bit of vinegar, a pinch of salt, and half a teaspoon of sugar, and beat tocombine.
2. Heat the oil in a frying pan; add the egg when the oil starts to smoke; make the omelette and lay it on the plate
3. Dice the bacon; stir the bacon with rice, chopped green onion, one teaspoon of soy sauce and seasoning wine; stir them constantly over low heat until the delicious smell of bacon is out and the rice is heated through
 4. Put the fried bacon rice on the center of omelette in a shape of brick; cover the bacon rice with the rest part of omelette; press another plate onto the omurice; turn it upside down
5. spell "LOVE" with ketchup on the smooth side of omurice; cut a window on it with a dessert knife
6. Serve warm, with a smile!
(By stonezeng)